Airtel Caller Tune: In this post, I am going to cover about Airtel caller tune.
After reading this detailed post, you will know various things such as:
How to Set caller tune in Airtel.
How to Set caller tune for free.
Few methods to activate caller tune
And much more.
Do you want to set Airtel caller tune for free on your number?
Then without wasting time let's dive right in!
Are you searching for how to set a caller tune in Airtel? or about Airtel caller tune number?
Or Airtel free Hello tune?
If your answer is yes then here is an offer for you if you are an Airtel operator.
On using this offer you will get Airtel free tune service for a Lifetime.
Airtel is running a free hello tune offer for the past few years and I already activated it 2 years back on one of my sim cards, and it works flawlessly.
Is it really free of cost?
Yes, it is!
Once you activate the caller tune using the below-mentioned steps and details, then how will you deactivate them?
Do you also want to know how you deactivate the caller tune in Airtel once you activate it?
Also check:
Don't worry, I have added the tutorial about this too.
You can check at the end of the page for the tutorial about how you deactivate the tune in Airtel.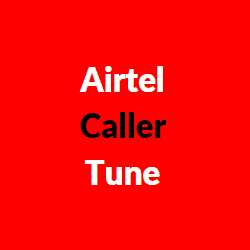 How To Set Caller Tune in Airtel:
Like Airtel, another telecom operator is also offering the same for free? No, only Jio and Airtel offering tune service for free.
If you are a Jio operator then you can activate caller tune from their Jio saavn music app.
Moreover, Airtel will charge you Rs 0 on activating this caller tune in your Airtel sim card.
Also, let me tell you that both the Caller tune and hello tune are the same, Airtel calls it Hello tune, Jio calls it Caller tune, Vodafone calls it dialer tune Docomo was called it My tune, and BSNL calls it something else.
Coming back to the topic, to activate Caller tune just follow the below-mentioned procedure and activate caller tune for the next 999 days absolutely free.
Method One: Using Wnyk Music App
1) First of all, Open your smartphone and open Google Play Store App.
2) Then Search for the Wnyk Music app.
3) Now Install the Wnyk music app on your smartphone.
4) Then open the Wnyk music app on your smartphone.
5) Now click on the top right phone icon and select a song.
6) Then click on set this song as your hello tune.
7) Finally, Your caller tune will be activated within a few hours.
8) Call on your mobile number from another number.
Airtel Caller Tune Old Method:
Method Two: Using Code Number
1) First of all, open your smartphone and then open the mobile number dialer app
2) Then type caller tune number in your using dial pad, the number is 5787809
3) After that call on the above-mentioned number, don't worry this is a toll-free number and you will not be charged.
4) Then support will ask to press 1, type number 1 in your dial pad, and select the Hindi language.
5) Now support will ask to press 1 again, type 1 in your dial pad to confirm "Mera Desh Badal RHA hai" as your caller tune.
6) Now again it will as you to confirm your caller tune by pressing 5, Type 5 in your dialer pad again.
7) Then within a few minutes tune will be activated in your Airtel sim card.
8) You can confirm it by calling on your number with another mobile phone.
How to Deactivate Caller Tune:
1) For deactivation of free caller tune service, you have to make a call on this caller tune number 543211808
2) This tune deactivation number is toll-free so Airtel will not charge you for this call.
3) You can also send an SMS by typing STOP to 543211
4) When you send an SMS from your mobile number then you will be charged by Rs 1.
5) If you don't want to use any of the above-mentioned methods then you can also deactivate caller tune by dialing a USSD code which is *678#.
6) Using the above three methods you will be able to deactivate the caller tune.
Conclusion:
Use any methods and set caller tune.
Do the above methods were useful? If your answer is yes then share it on social media
Do check some free recharge offers and ask your friends to check this valuable post.
Airtel Caller Tune FAQs:
How to set caller tune in Airtel free?
There are two methods to do the same, now it depends on you how which method you follow.
How to get free caller tune in Airtel?
You need to dial a USSD code to do this, follow steps given in this post to do this.
How to activate free caller tune in Airtel?
YOu can activate the caller tune through the Wnyk music app.
How to apply free caller tune on Airtel?
To apply free caller tune you need to download Wynk music app.
At this Point Check Related Offers:
Finally Watch Related Video:
Watch and know how to set caller tune in Airtel Sim.
Airtel sim me caller tune kaise lagaye 2022 | How to set free caller tune in airtel sim 2022