Airtel PUK Code: In this article, I am going to tell you about Airtel PUK number,
After reading this article you will know many things like:
How to unlock PUK code in Airtel
How to get Airtel PUK code through SMS
Airtel PUK Code unlock a number
And much more.
Are you ready to know more about Airtel PUK code?
Let's get into it,
PUK stands for "Personal Unblocking Key", it is a feature in all the smartphones and mobile phones offered by different telecom networks such as Airtel, Idea, Vodafone, Jio, and BSNL as well.
Mostly PUK is required when someone is doing some unauthorized uses of your sim card.
For example – When someone enters PIN code for more than 3 times in your smartphone or in your mobile phone, then your device asks for PUK code to unlock the sim card.
The PIN code is a 4 digit number which is easy to guess for the reason that it always has some repeated patterns like 1111, 0000, 1234, etc.
On the other hand, the PUK code doesn't have repeated patterns like 1111, 1234, and 0000. So it is not possible to guess the PUK code.
Also check:
Moreover, Once you enter the wrong PUK code for more than 10 times then your SIM card will get permanently disabled and all the contacts in the SIM card will get erased.
Now let me tell you three methods to unlock the PUK code in Airtel SIM. Out of the below given 3 methods you can use any one method to unlock Airtel Sim.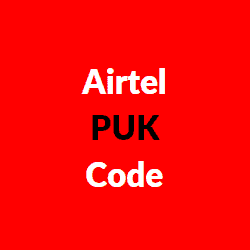 How to Get Airtel Puk Code?
Method One: Unlock PUK Code Using Site
1) First of all Goto Airtel website and Login with your account details.
2) After entering the Moble number / Service ID and Password / OTP click on the login button.
3) Now click on the account option and then click on your number.
4) Then you will get your IMEI number and Puk code of your Airtel Mobile number.
5) If you didn't find the account option in the Airtel setting tab then try the below methods.
Method Two: Unlock PUK Using Airtel Customer Service
1) First of all Goto your Nearby Airtel store and Ask the store agent for your Sim card PUK code.
2) Then the Agent will ask you for the documents and he will also verify your identity.
3) Make sure to carry your documents along with you inside the Airtel store.
4) After verifying your documents the Airtel customer care agent will tell you the PUK code your Airtel mobile number without any additional charges.
5) You can also call to the Airtel customer care on 121 number if there is no Airtel store near you.
Method Three: Unlock using My Airtel app
1) First of all download the My Airtel app from the Google Play store.
2) Once you download and install the Airtel app, login into the app with your mobile number and password or OTP.
3) Then click on the Menu and then Goto the help & support section.
4) Now click on I want to know my PUK code number option.
5) Then type in the bottom section, that your need your PUK code of Airtel sim card.
6) After that, send the message in the Help and support center.
7) Within a few hours you will get your PUK code by the Customer care team.
I hope you like this

Airtel PUK Code

post,

Do check some Recharge tricks, free recharge apps, and ask your friends to check the same if they are looking for some extra discount on their recharge, bill payment, etc.

Also, check Paytm cash apps for some extra money, and Airtel free data code, Jio free data code, Idea free data code, Vodafone free data code for the extra Internet.

Now I want to hear from you. Do you have any query, regarding this offer?
Check Related Articles:
Watch Related Video:
How to Unlock Airtel Puk Code / Airtel Sim Ka Puk code Kaise unlock kare latest / Airtel Puk Unlock