Amazon App Treasure Hunt Answer: Amazon is again offering their 4th treasure hunt In which you will get all home & kitchen products such as pan, grinder, furniture, chair at just Rs 1 only.
This treasure hunt will start in the last month of 2019.
Users will get clues in every half hour all you need to download amazon app from below then login and register on Amazon app now you will see a banner of solve clues & win the home and kitchen products for free on Amazon app dashboard or home page simply click on that banner and solve the clues.
We will provide you clues by our self but you are requested to find clues yourself too.
After solving clues search product and click on buy now If you have any problem then comment below we will solve your problem as faster as we can.
Amazon app treasure hunt answer will be added soon.
Stay tuned with us to get more information and updates regarding amazon app treasure hunt.
Follow the below steps to grab your products at Rs 1 by selecting the correct Amazon app Treasure Hunt Answer.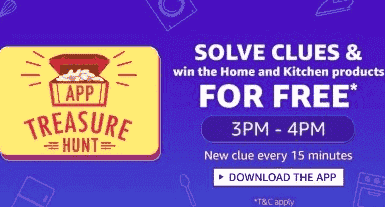 How To Avail Amazon App Treasure Hunt:
1) First Of All  Download Amazon App from the Offer Page
2) Now Login / Signup on Amazon.
3) Now go to Amazon Home & Kitchen products treasure hunt.
4) Note The Clue > solve the clue or we will provide you answers as fast as possible below.
5) Now Goto product page.
6) Click on a lightning deal.
7) Add product to cart.
8) Pay amount of Rs 1.
9) Note – If you are not able to buy a product then join the waitlist And wait for> after few secs you will get a notification to buy the product > simply add the product to cart and pay the required amount.
Amazon App Treasure Hunt Answers:
3 PM Clue: Unscramble OOIMSL for a gift
Answer: Solimo Festive Delights Gift Pack of Nuts and Dry Fruits, 300g
3:15 PM Clue: YDUABRC
Answer: Cadbury Celebration assorted chocolate gift pack 190.3 gm
3:30 PM Clue: Contains Scotch Finger & Nice
Answer: Unibic cookies magic 300g
3:45 PM Clue: A Chef Of dough Says "Ho Ho Ho"
Answer: Pillsbury Cookie Cake Greeting Pack, 276g (12 Single Packs Inside)
4:00 PM Clue: Felling is to feel cheerful & celebratory
Answer: Festive Flavors Gift Pack, 857g with Greeting Card
4:15 PM Clue: A Mix of Childhood Favourites
Answer: Paperboat
4:30 PM- Clue: HAs Star Wrapped in gold & Milk that's Not while but a bar that is
Answer: Cadbury Celebrations Assorted Chocolate Gift Pack, 177.8g
4:45 PM Clue: A Sealed Plastic Bag Designed to stand upright is called ____
Answer: paper boat special daypack
5:00 PM Clue: A B That Not Naturally Buzz
Answer: B Natural Festive Delights Assorted Kids Gift Pack
5:15 PM Clue: Named after The favorite Horse Of the founding family. it was called "marathon" until 1990
Answer: Snickers Diwali Gift Pack
5:30 PM Clue:  Ristretto, Doppio, or affogato are types of?
Answer: Nescafe 200g with jar Kit
5:45 PM Clue: Hazelnut In Hazelnut
Answer: Ferrero rocher 4 pieces
More Answers:
Surprise Clue Answer –  Real Juice PVC Bag pack of 3( 1000g X 3)
6:00 PM Clue: Eminem in a brown coat
Answer: m&m peanut coated with milk chocolate
6:15 PM Clue: The Sweet Taste of Success is Worth its Weight in Gold
Answer: Cadbury chocolatiers
6:30 PM Clue: Drinks And memories
Answer: paper boat 3L
6:45 PM Clue: Greeting with a bite
Answer: unibic cookie greetings
7:00 PM Clue: The Heart In The Center Shines Its Shimmering Light on This Feast
Answer: Sunfeast gift pack 500 g total count 6
7:15 PM Clue: to _ or not be_ this suitcase naturally wondered
Answer: b natural assorted Gift pack
7:30 PM Clue: __Marid Had a Juicy Final
Answer: Sunfeast Mom's Magic Expressions – Gift Pack, 500g
7:45 PM Clue: This Original Comes with Tough Green & a soft wite cushion
Answer: Paper boat coconut
All Clues Answers Updated Soon But Users Are Requested To Search Answers And Comment Below
Next Live Date:
Oct 3 – Win Festive Hampers For Food Lovers
Check Related Offers:
Watch Video from a Channel –
Amazon App Treasure Hunt Answers