Amazon Apple Quiz Answers Today: In this quiz post I am going to tell you some Answers,
After using these answers on the Amazon app, you can win the below prizes:
Amazon Apple Watch
Amazon Apple iPhone
Ipad of Apple
And much more.
So, now let me tell you the correct answers.
Do you want to win free prizes?
If you are looking for the same, then here is a good offer for you.
Now Amazon is back with another quiz time, In today's quiz, Amazon is offering Apple iPhone XR smartphone.
Amazon will not charge you for this iPhone, Amazon is giving away to you absolutely free.
Really, it is true?
Yes, this is a part of Amazon India quiz time and Amazon is offering prizes for quiz winners absolutely free.
Also check:
so how can you play this quiz, you don't have to do much, all you need to do is to follow the below steps!!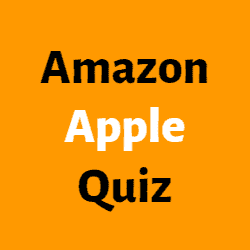 Amazon Apple Quiz Answers:
1. Win iPhone 12 Right Now (22nd Nov)
Q1) Sean Connery, who recently passed away, appeared as James Bond for the first time in which film?

Ans: Dr. No
Q2) By what name is Jadav "Molai" Payeng, an activist from Majuli popularly known?

Ans: Forest Man of India
Q3) The 2022 Cadillac Lyriq is the first electric vehicle from which automobile giant's luxury brand?

Ans: General Motors
Q4) This is a historical painting from which country?

Ans: Egypt
Q5) This installation features the covers of an iconic magazine, whose controlling interest is held by which global media giant?

Ans: The Walt Disney Company
2. Amazon iPhone XR Quiz Answers (1st Nov)
Q1) Which famous Music Director born on 27th June was known popularly by the nickname 'Pancham'?
Ans: RD Burman
Q2)  Which day celebrated annually on 30th June was co-founded by astrophysicist and famed musician Dr. Brian May?
Ans: World Asteroid Day
Q3) As per Forbes real-time Billionaire list, which Indian recently soared into the top 10, based on a sharp rise in net worth?
Ans: Mukesh Ambani
Q4) The GWM Group is China's largest SUV and picks up the manufacturer. What is the full form of GWM?
Ans: Great Wall Motors
Q5) 'Swarg ka Dwaar' is the last episode of which Amazon Prime series?
Ans: Paatal Lok
Check Related Offers:
Watch Related Video: