Amazon Apple Quiz Answers Today: In this quiz post I am going to tell you some Answers,
After using these answers on the Amazon app, you can win below prizes:
Amazon Apple Watch
Amazon Apple iPhone
Ipad of Apple
And much more.
So, now let me tell you the correct answers.
Do you want to win free prizes?
If you are looking for the same, then here is a good offer for you.
Now Amazon is back with another quiz time, In today's quiz, Amazon is offering Apple iPhone XR smartphone.
Amazon will not charge you for this iPhone, Amazon is giving away to you absolutely free.
Really, it is true?
Yes, this is a part of Amazon India quiz time and Amazon is offering prizes for quiz winners absolutely free.
Also check:
so how can you play this quiz, you don't have to do much, all you need to do is to follow the below steps!!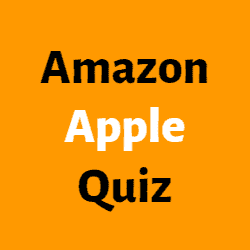 Amazon Apple Quiz Answers:
Amazon iPhone XR Quiz Answers (1st July):
Q1) Which famous Music Director born on 27th June was known popularly by the nickname 'Pancham'?
Ans: RD Burman
Q2)  Which day celebrated annually on 30th June was co-founded by astrophysicist and famed musician Dr. Brian May?
Ans: World Asteroid Day
Q3) As per Forbes real-time Billionaire list, which Indian recently soared into the top 10, based on a sharp rise in net worth?
Ans: Mukesh Ambani
Q4) The GWM Group is China's largest SUV and picks up the manufacturer. What is the full form of GWM?
Ans: Great Wall Motors
Q5) 'Swarg ka Dwaar' is the last episode of which Amazon Prime series?
Ans: Paatal Lok
Amazon XR Answers (17th June):
Q1. For the first time in 75 years, world leaders would not travel for the United Nations General Assembly session scheduled in which city?
Ans: New York
Q2. Which famous actor born on June 22nd, known for playing negative roles featured in Indiana Jones and the Temple of Doom?
Ans: Amrish Puri
Q3. Titan is a satellite in the solar system which is known to be drifting away from its host planet. Which is its host planet?
Ans: Saturn
Q4. Gairsain has recently been appointed the summer capital of which Indian state?
Ans: Uttarakhand
Q5. The English Premier League is scheduled to restart on June 17th. Which two teams would be playing in the first fixture since resumption?
Ans: Aston Villa, Sheffield United
Check Related Offers:
Watch Related Video: