Amazon Bose Home Speaker 500 Quiz Answers – 13th August 2019, Amazon has again come up with new quiz time. In this Quiz time, Amazon is offering Bose Home Speaker 500.
Winners of this quiz will be announced soon. This quiz is valid only for today. So without wasting any more time open your Amazon app and play this quiz.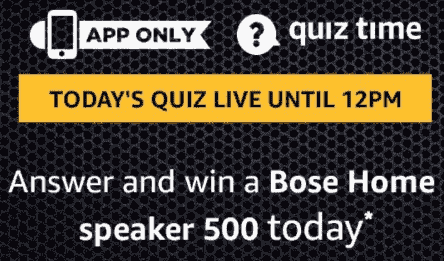 Amazon Bose Home Speaker Quiz –
13th August Quiz Answers – 
1) Fact or Myth: The Great Wall of China can be seen with the unaided human eye from space
Ans- Myth
2) Chakyar Koothu is a classical dance form which involves a lot of comedy through narrations and gestures. Which Indian state does it originate from?
Ans – Kerala
3) Former India cricketer, Kiran More, has been appointed as the interim coach of which cricket team?
Ans – USA
4) Which film was Farhan Akhtar's directorial debut?
Ans – Dil Chahta Hai
5) Last year, Rahul Dravid was inducted into the ICC hall of fame. This year, __________ has become the 6th Indian cricketer to join the ranks. Fill in the blanks.
Ans – Sachin Tendulkar
13th July Quiz Answers – 
1) George Eliot was the pen name of which author?
Ans – Mary Ann Evans
2) In support of the Rohingya refugees, ____ has decided to provide 2,500 metric tons of rice to Bangladesh. Name the country.
Ans – China
3) Who is largely responsible for breaking the German Enigma codes which helped win World War II, and provided a foundation for modern computing and development of artificial intelligence?
Ans – Alan Turing
4) In the fictional series of Sherlock Holmes, what is the detective's address in London?
Ans – 221B Baker Street
5) The longest electrified railway tunnel in the country has just been commissioned . Which state will this be built in?
Ans – Andhra Pradesh
Terms And Conditions – 
1) This Contest will commence on 13th August 2019 from 08:00:01 a.m. (IST) to 12:00:00 p.m. (IST) ("Contest Period").
2) In order to be eligible for the Contest, during the Contest Period you must sign-in to or sign-up from an account on the Amazon.in App ("Amazon.in App").
3) Once you have signed-in to the Amazon.in App, you can participate by navigating to the page where 5 (five) questions will be posted during the entire Contest Period.
4) The declared winner(s) will be eligible for winning Bose Home Speaker 500 (hereinafter referred to as "Prize(s)").
Check Related Offers –