Amazon Diesel Chi Watch Quiz Answers – 2020, Amazon is back with new quiz time. Now Amazon is offering Diesel Chi Watch absolutely free.
This quiz is valid for today only and the winner of this quiz will be announced soon. So follow the below steps and play this quiz.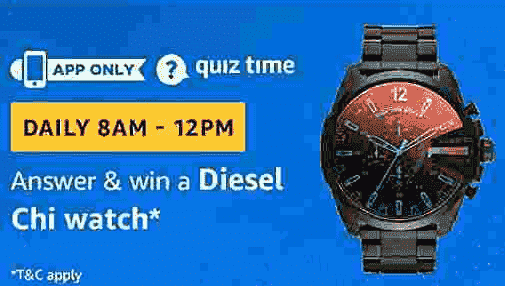 Amazon Diesel Chi Watch Quiz Answers –
3rd July Quiz Answers – 
1) What is the highest civilian award of India?
Ans- Bharat Ratna
2) Who among the following has NOT held the position of chairman at ISRO (Indian Space Research Organization)?
Ans- Dr. APJ Abdul Kalam
3) Saif Ali Khan received the National Award for 'Best Actor' for his movie 'HUM TUM'. True or False?
Ans- True
4) Which famous Indian personality has just announced the release of his autobiography titled, 'My Life, My Mission'?
Ans- Baba Ramdev
5) Kasol (which is sometimes referred to as mini Israel), is situated on the banks of ________ river where you can find gushing streams and even hot springs! Fill in the blanks.
Ans- Parvati
18th May Quiz Answers – 
1. In 2000, 17-year-old Priyanka Chopra won the title of Miss India and later that year went on to be crowned as _______. Fill in the blanks.

Ans. Miss World
2. A narrow strip of water separates India and Sri Lanka. What is it called?

Ans. Palk Strait
3. Consisting of over 1,349 pages and 591,552 words, which novel by Vikram Seth is one of the longest novels ever published in a single volume in the English language?

Ans. A suitable boy
4. An anemometer is a type of scientific instrument that measures the quantity of rainfall.

Ans. False
5. Raavana 1 is a low-orbit satellite. It is the first satellite of ___. Name the country.

Ans. Sri Lanka