Amazon Fitbit Ionic Smartwatch Quiz Answers – 11th June 2019, Now Amazon is again back with another Quiztime.
In today's Quiztime Amazon is offering Fitbit Ionic Smartwatch Quiz.
This Quiz is valid only for today so follow below steps and avail this quiz.
Winners of this Quiz will be announced soon. You can check winners list from here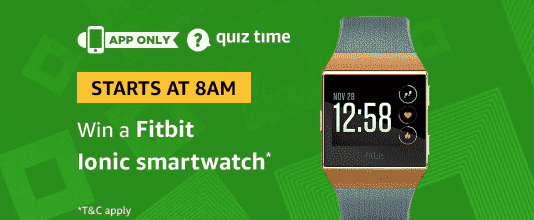 Amazon Fitbit Ionic Smartwatch Quiz Answers –
1) What is the name of the fictional Arabian city where the story of Aladdin is based?
Ans- Agrabah
2) Videos of the worlds first (and most rare) albino giant panda were captured recently. Where was this albino panda seen?
Ans- China
3) The retired judge of Indian Supreme Court Justice Madan B Lokur has been appointed to the Supreme Court of Fiji.
Ans- true
4) Who is the youngest Member of Loksabha in the history of Indian Parliament?
Ans- Chandrani Murmu
5) Murray Gell-Mann was the Nobel Prize Laureate in 1969 who passed away recently. For which field did he win the Nobel Prize?
Ans- physics