Amazon Go Pro Camera Quiz Answers: Are you searching for Amazon quiz Answers on Google?
If yes then you are a few seconds away from getting Amazon Quiz Answers. Really?
I am not joking, yes you will get all the answers within a few seconds. How? 
Firstly let me tell you you don't have to go anywhere, just Carry on reading.
Below are the quiz Answers of today that you are looking for, so head to the below subheading.
Wait, if you get the correct answers then why don't you share these answers with your friends and family members?
Just hit the above-given share buttons now to share this quiz on your social media profiles.
Also check:
Firstly read all the below mentioned Amazon Go Pro Hero Camera Quiz answers then share!!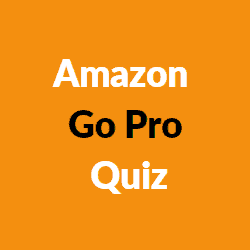 Amazon Go Pro Quiz Answers:
Amazon Go Pro Hero Answers (10th July):
Q1. Which country is helping Bhutan set up the 600MW Kholongchhu Hydro Electric Project?
Ans: India
Q2. The Amazon Prime series 'Breathe: Into the Shadows' stars which of these Bollywood actors?
Ans: Abhishek Bachchan
Q3. Recently inducted by the Indian Navy, after which mythical character is the indigenously developed anti-torpedo decoy system named?
Ans: Maareech
Q4. Which global tech firm was the latest to pick up a stake in Jio Platforms for INR 1,894.50 crore?
Ans: Intel
Q5. Which country's Revolutionary Guards Corps plans to establish a permanent military base in the Indian Ocean by March 2021?
Ans: Iran
Amazon Go Pro Hero Answers (29th May):
Q1) Which famous foreigner after whom a city in India is named, landed on Indian shores on 20th May 1498?
Ans: Vasco da Gama
Q3) The Western Ghats, one of the eight hotspots of biological diversity in the world, is spread across how many Indian states?
Ans: 6
Q4) Which French company helped Indian Railways manufacture the 12000 HP electric locomotive?
Ans: Alstom
Q5) "Ada. Seva Sadaiv" is the motto of which of these Indian organizations?
Ans: NDRF
Q5) Which Indian FMCG company recently launched their e-commerce app 'OrderMe'?
Ans: Patanjali
Amazon Hero Answers (18th April):
1) The Painter Prince is a book based on which famous painter born in April 1848?

Ans: Raja Ravi Varma
2) Which of these was the first Summer Olympics to be canceled in the 20th century?

Ans: 1916
3) How do we better know the ruler Maharana Sangram Singh Sisodia born on 12th April 1482 who fought against the Lodhi dynasty?

Ans: Rana Sanga
4) Which of these drugs currently in the news is also sold under the brand name Plaquenil and is used for the treatment of malaria?

Ans: Hydroxychloroquine
5) 'The Unsung Warrior' is the tagline of which Bollywood movie released in January 2020?

Ans: Tanhaji
Amazon Hero 8 Answers:
Q1. Which famous person born on 15th January, delivered the iconic 'I have a dream' speech at Washington?
Ans: Martin Luther King Jnr
Q2. Utkalika is the state emporium of which Indian state?
Ans: Odisha
Q3. The Hundred' is a cricket tournament in England to be launched in 2020. What does the Hundred refer to?
Ans: Number of balls in an innings
Q4. More than 1 billion animals may have been killed in wildfires ravaging which country in 2019-20?
Ans: Australia
Q5. Which of these popular animated series is set in the fictional town of Springfield?
Ans: Simpsons
Check Related Offers:
Watch Related Video:
Amazon Quiz Answers Today | Win GoPro Hero7 | 12 Nov 2019