Amazon Go Pro Camera Quiz Answers: Are you searching for Amazon quiz Answers on Google?
If yes then you are a few seconds away from getting Amazon Quiz Answers. Really?
I am not joking, yes you will get all the answers within a few seconds. How? 
Firstly let me tell you you don't have to go anywhere, just Carry on reading.
Below are the quiz Answers of today that you are looking for, so head to the below subheading.
Wait, if you get the correct answers then why don't you share these answers with your friends and family members?
Just hit the above-given share buttons now to share this quiz on your social media profiles.
Also check:
Firstly read all the below mentioned Amazon Go Pro Hero Camera Quiz answers then share!!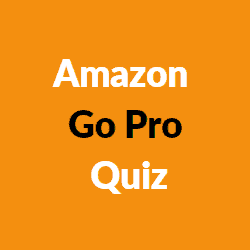 Amazon Go Pro Quiz Answers:
Amazon Go Pro Hero 8 Answers (24th July):
Q1. Which former RBI governor is the author of the recently published book 'Overdraft: Saving the Indian Saver'?
Ans: Urjit Patel
Q2. Gagandeep Kang is the first Indian woman scientist to be selected as a Fellow of which organization?
Ans: Royal Society of London
Q3. Zoonoses Day is held every year on July 6 to commemorate the scientific achievement of which scientist?
Ans: Louis Pasteur
Q4. 'Reels' is a new video feature launched by which popular app?
Ans: Instagram
Q5. ISRO is set to launch Amazonia- 1, an earth observation satellite developed by which country?
Ans: Brazil
Go Pro Hero 8 Answers (10th July):
Q1. Which country is helping Bhutan set up the 600MW Kholongchhu Hydro Electric Project?
Ans: India
Q2. The Amazon Prime series 'Breathe: Into the Shadows' stars which of these Bollywood actors?
Ans: Abhishek Bachchan
Q3. Which global tech firm was the latest to pick up a stake in Jio Platforms for INR 1,894.50 crore?
Ans: Intel
Q4. Which country's Revolutionary Guards Corps plans to establish a permanent military base in the Indian Ocean by March 2021?
Ans: Iran
Check Related Offers:
Watch Related Video: