Amazon HSBC Offer: In this offer post, I will tell you about a new HSBC offer with Amazon.
After installing the Amazon app, you will get the following benefits including:
Rebates on online payments.
Discount on online bill payments.
Make payments and save huge.
And more benefits.
Forsooth:
I have got discounts so many times whenever I have used this Amazon platform.
How many services did you use of this Amazon platform? Comment your answer.
When Amazon was launched in 1994, then people did not know more about this platform because it was the first shopping platform that provided online service.
Amazon offers various discount deals, cashback offers, bank offers, and more to its customers. Additionally, it teamed up with many merchant platforms like Paytm, Phonepe, and others.
This post is all about the HSBC and Amazon offer, where HSBC is a multinational bank that provides financial services.
As of now, Amazon has brought a new offer with HSBC bank, where the customers can save money 4times on online bill payments.
Also check:
Did you read the above offer details about Amazon and HSBC?
Then activate your HSBC cards for further payments.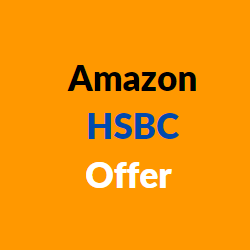 Amazon HSBC Offer Terms:
1. Get Rs 50 Four Times on Payment
1) Discount value is automatically deducted during payments, and there is no unique code required.
2) When users pay bills on the Amazon site, they will save a huge discounts under this deal.
3) The users have to use their HSBC credit card to make the payment on Amazon.
4) Minimum transaction value is required Rs 500 to avail the offer benefits.
5) If users make payments with the HSBC credit card for electricity, gas bills, prepaid, and landline, then only they can save money up to Rs 200.
6) This offer runs till the end of 7th July 2022.
How to Avail Amazon HSBC Offer:
1) Firstly, go to the Amazon web platform and log in to your account.
2) Secondly, if you are a new user and become an Amazon member, then enter your mobile phone number or email address.
3) After that, click on the continue button to create your Amazon account and sign in to Amazon.
4) Now, go to the Amazon Pay category and tap on the bill payment.
5) After redirecting to the billing page > enter the details regarding your bills and tap on the continue button.
6) Next, select payment options from the below page, choose the credit card option to avail the discount benefits.
7) Before making payments, ensure you have a valid HSBC bank card> if you do not have a bank card.
8) Then bring your family or friends an HSBC card for this payment > now, come back on the Amazon bill page.
9) Next, add your card details to the given page and enter to make an online payments with Amazon.
10) Only the remaining amount has been deducted from your card.
Conclusion:
Use your HSBC card and complete your transaction on the Amazon page.
Which postpaid service did you use on the Amazon platform?
Share your experience in the below box and check out free recharge offers.
Amazon HSBC Offer FAQs:
Which bank is giving 10% discount on Amazon?
Most of the banks provide huge discounts like HDFC, SBI, ICICI, Axis and so on. Right now, HDFC provide this discount offer.
How can I avail a bank offer on Amazon?
You have to register on Amazon to avail the bank offers, then you can make payments with any bank card to get rewards.
At this Point Check Related Offers:
Finally Watch Related Video:
Tap on this video and learn about the HSBC cashback credit card.
HSBC Cashback Credit Card Review | Best Cashback Credit Card ? 🔥🔥🔥