Amazon Marshall Woburn Speakers Quiz Answers – 17th August, Amazon has come up with new quiz time. Now Amazon is offering  Marshall Woburn Speakers Quiz Answers. This quiz is valid only for today.
Winners of this quiz will be announced soon on Amazon. So check out below given quiz Answers and win Marshall Woburn Speakers.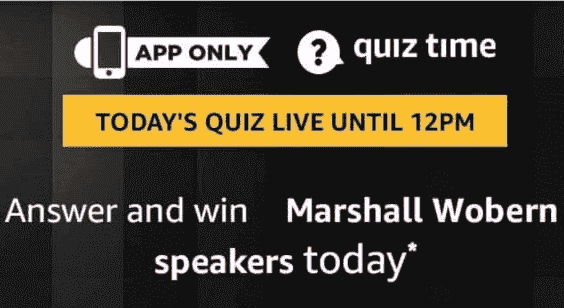 Amazon Marshall Woburn Speakers Quiz Answers –
17th August Quiz Answers –
1)What is the name of the new film starring Leonardo DiCaprio and Brad Pitt which has been directed by Quentin Tarantino?
Ans – Once upon a time in Hollywood
2) The world's coldest inhabited place is the village Oymyakon which records 68-degree centigrade is located at ___________.
Ans – Russia
3) In the Vivo Pro Kabaddi League, 2019, what is the name of Haryana's team?
Ans – Haryana Steelers
4) The Pinna is the outer area of which human body part?
Ans – Ear
5) Kiara Advani was most recently seen opposite Shahid Kapoor in Kabir Singh. Which was her Bollywood debut film?
Ans – Fugly
11th May 2019 Quiz Answers –
1. The collective noun for a group of giraffes is a '_____ of giraffes'. Fill in the blanks.
Ans. Tower
2. Which of this crawly creature is said to have the highest number of legs – and can go up to 200 pairs?
Ans. Millipede
3. In physics, what is the term for a 'nuclear reaction in which nuclei combine to form more massive nuclei'?
Ans. Fusion
4. A crocodile cannot stick out its tongue.
Ans. True
5. Which are the largest subspecies of the Tiger?
Ans. The Siberian tiger
Terms And Conditions – 
1) This Contest will commence on 17th August 2019 from 08:00:01 a.m. (IST) to 12:00:00 p.m. (IST) ("Contest Period")
2) In order to be eligible for the Contest, during the Contest Period you must sign-in to or sign-up from an account on the Amazon.in App ("Amazon.in App").
3) Once you have signed-in to the Amazon.in App, you can participate by navigating to the page where 5 (five) questions will be posted during the entire Contest Period.
4) Thereafter, if you answer all the quiz questions correctly, you will be entitled to a lucky draw which will be carried out amongst participants who have answered that particular question correctly.
5) The declared winner(s) will be eligible for winning Marshall Woburn Speakers (hereinafter referred to as "Prize(s)"). Winners will be declared on This Page
Check Related Offers –