Amazon Oppo F11 Pro Quiz Answers – 4th July 2019, Amazon is back with new quiz time. Now Amazon is offering Oppo F11 Pro Quiz absolutely free.
This quiz is valid for today only and the winner of this quiz will be announced soon. So follow the below steps and play this quiz.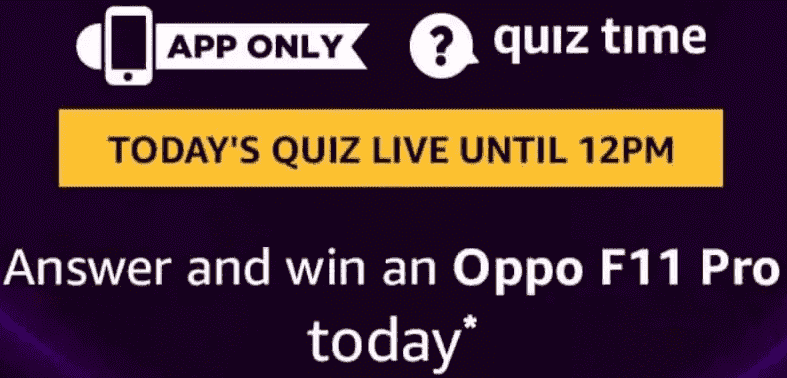 Amazon Oppo F11 Pro Quiz Answers –
4th July 2019 Quiz Answers –
1. June 21 was the summer solstice in the Northern Hemisphere. It is known for being the ___ day of the year in this part of the world
Ans. Longest
2. Ablutophobia' is the fear of?
Ans. Bathing
3. Which team won the FIH Women's Series Finals hockey tournament held recently on June 23rd?
Ans. India
4. Facebook recently launched a new cryptocurrency. What is it called?
Ans. Libra
5. There are cells in the body that absorb other smaller cells and bacteria as a defense mechanism against infections. What are they called?
Ans. Phagocytes
22nd May 2019 Quiz Answers –
1. Fanta and Sprite belong to which beverage company?

Ans. The Coca Cola Company
2. Rio de Janeiro is the capital of Brazil

Ans. False
3.In the recently concluded IPL 2019, which player won the 'Purple cap' for being the leading wicket-taker of the tournament?

Ans. Imran Tahir
4. In which city would you find Capitol Hill, the seat of the government and an old residential neighborhood?
Ans. Washington DC
5. The book 'Long Walk to Freedom' is an autobiography by which one of these?

Ans. Nelson Mandela
Terms And Conditions –
1) This Contest will commence on 4th July 2019 from 08:00:01 a.m. (IST) to 12:00:00 p.m. (IST) ("Contest Period")
2) In order to be eligible for the Contest, during the Contest Period you must sign-in to or sign-up from an account on the Amazon.in App ("Amazon.in App").
3) Once you have signed-in to the Amazon.in App, you can participate by navigating to the page where 5 (five) questions will be posted during the entire Contest Period.
4) Thereafter, if you answer all the quiz questions correctly, you will be entitled to a lucky draw which will be carried out amongst participants who have answered that particular question correctly.
5) The declared winner(s) will be eligible for winning Oppo F11 Pro (hereinafter referred to as "Prize(s)"). Winners will be declared on This Page
Check Related Offers –