Amazon Oppo Quiz Answers Today – 2019, Amazon is back with new quiz time. Now Amazon is offering Oppo F11 Pro Quiz absolutely free.
This quiz is valid for today only and the winner of this quiz will be announced soon.
So follow the below steps and play this quiz.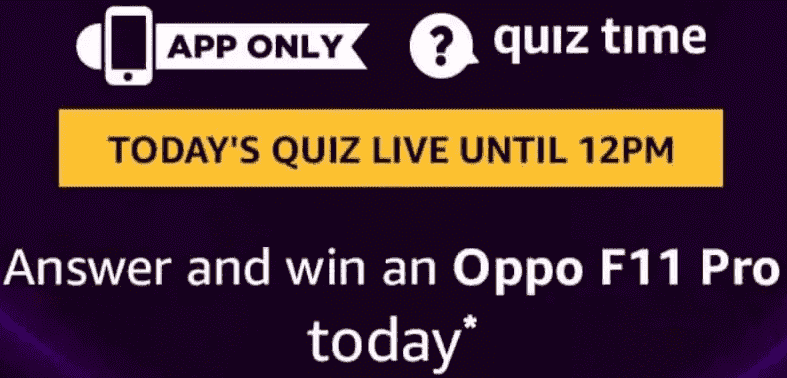 Amazon Oppo F11 Pro Quiz Answers –
Amazon 9th Oct Quiz Answers –
Q1- Today, 09 October is celebrated as 'World Post Day' to create awareness about the role of the postal sector in people's and businesses' lives and its contribution to the social and economic development of countries. Since which year is 'World Post Day' being celebrated?
Ans – 1969
Q2 – Today, 09 October marks the 79th birth anniversary of the legendary English singer John Lennon. Which world-famous band was he a part of?
Ans – The Beatles
Q3 – The Ao language is spoken in which of the following States?
Ans – Nagaland
Q4 – Which planet in our solar system is named after the Roman god of war?
Ans – Mars
Q5 – Where can you find India's only floating post-office, which is situated on a lake?
Ans –  Srinagar
Amazon 22nd Sep Quiz Answers – 
Q. Today is the 3rd T20 game between India and South Africa of the 2019 series. On 1st December 2006, India played its first-ever T20 game against South Africa. Where was that match played?
Ans) Johannesburg
Q.Whish of these is a founder of the popular messaging app 'Whatsapp'?
Ans) .Jan Koum
Q.Copenhagen is the capital of which country?
Ans) Denmark
Q.Priyanka Chopra played a supporting role in a 2019 Netflix Original rom-com with Rebel Wilson and Liam Hemsworth. What's the name of the film?
Ans) Isn't it romantic
Q.In 1996, a mammal named Dolly was successfully cloned for the first time. What type of animal was it?
Ans) Sheep
Amazon 4th September 2019 Quiz Answers –
Q1) What is the capital of Finland?

Ans – Helsinki
Q2. In 1995, UNESCO named Easter Island (a remote volcanic island in Polynesia) as a World Heritage Site. What is this place known for?

Ans – Stone head statues
Q3) Which of the following writers was born in India?

Ans – Jhumpa Lahiri
Q4) A teenager recently broke Michael Phelps' record in the 200m butterfly stroke. Who was it?

Ans – Kristof Milak
Q5) Which nation was the first to give women the right to vote?

Ans – New Zealand
Old Amazon Oppo F11 Pro Quiz Answers –
Amazon 4th July 2019 Quiz Answers –
1. June 21 was the summer solstice in the Northern Hemisphere. It is known for being the ___ day of the year in this part of the world
Ans. Longest
2. Ablutophobia' is the fear of?
Ans. Bathing
3. Which team won the FIH Women's Series Finals hockey tournament held recently on June 23rd?
Ans. India
4. Facebook recently launched a new cryptocurrency. What is it called?
Ans. Libra
5. There are cells in the body that absorb other smaller cells and bacteria as a defense mechanism against infections. What are they called?
Ans. Phagocytes
Amazon 22nd May 2019 Quiz Answers –
1. Fanta and Sprite belong to which beverage company?

Ans. The Coca Cola Company
2. Rio de Janeiro is the capital of Brazil

Ans. False
3.In the recently concluded IPL 2019, which player won the 'Purple cap' for being the leading wicket-taker of the tournament?

Ans. Imran Tahir
4. In which city would you find Capitol Hill, the seat of the government and an old residential neighborhood?
Ans. Washington DC
5. The book 'Long Walk to Freedom' is an autobiography by which one of these?

Ans. Nelson Mandela
Check Related Offers – 
Watch video from a Channel –