Amazon Quiz Winners: In this post, I will describe all Amazon winner's names.
After winning the Amazon quiz, you will get benefits:
Amazon quiz winner's names.
Amazon Pay balance after winning quiz.
Discount on online shopping.
And more benefits.
Do you know Amazon offers quiz contests almost every two days a week?
Many of the amazon customers from India play this quiz, but they face problem in knowing that he/she won the quiz or not. Also, many of our users ask for the winner's name or list of a particular quiz after 4-6 weeks.
So we decided to put all the quiz winner's names in one place. There is at least 5- 8 question in the Amazon quiz each question has four options, and you have to give all answers correct.
In case if you give one incorrect answer, then you get eliminated from the quiz,
But if you give all the answers and are on the second-winner list, you will get small rewards compared to first winner rewards.
Most of the time, Amazon provides the Amazon pay balance, but it is beneficial. Users can use the Amazon pay balance on various app services like shopping, recharge, bills, and ticket.
Moreover, there are some other rules make sure you check them out.
How to know about Amazon Quiz Winners?
This is a pervasive question but doesn't worry, and we have a list of all Amazon Quiz winners, which you can check from below.
Also Check:
Do you want to check your name in the below lists?
Then win the Amazon quiz.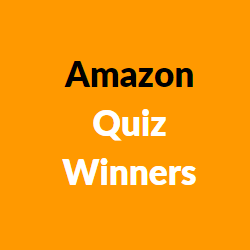 Amazon Quiz Winners List Today:
Amazon Really Tough Mobile Quiz (12th September 2021)
Amazon Daily Spin Win (12th September 2021)
Shamim Akhtar Hashmi
Manju s nair
Srinath Bodla
Check more winners on Amazon
Amazon Daily Quiz Time (12th September 2021)
Ajithkumar
Aadil Bin Shams
More winners on Amazon
Amazon Wheel of Fortune (12th September 2021)
Amarendra singh
Omprakash
Sanjay Parsram Mangharam
For more winners on Amazon
Amazon Daily Spin Win (12th September 2021)
Krishna
Raushan Kumar
Magdalene
For more winners check on Amazon
Amazon Daily Quiz Time (11th September 2021)
John nong
Govind Vishwakarma
Tilak Raj
Gunjan Raj
Check more on Amazon app
Amazon Mini TV Quiz Time (August 20 – 10th September 2021)
Shobzlive@gmail.com
Shamju
Nagesh
Check more on Amazon app.
Amazon Daily Quiz Time (10th September 2021)
How to Play Amazon contest:
1) First of all, download the Amazon app from the Google play store.
2) After that, log in or register a new account on the Amazon app.
3) Thirdly, go to the app dashboard and then click on the game section from the given page.
4) After that, click on the start quiz button and proceed.
5) Now, give the correct answer to all the given questions.
6) After given all the quiz answers, wait for the Amazon responses about winning prizes.
7) If you win the quiz, you will get the message through text, and a reward will add to your Amazon account.
8) Lastly, you will get all the Amazon Quiz Winners' name is listed above.
Conclusion:
Want to get your name in this offer post, visit the Earningkart homepage and win a quiz game.
Did you get your name in the above-given lists?
Then check some free recharge offers and get recharge for free.
At this Point Check Related Offers:
Finally Watch Related video:
Watch this video and check all the Amazon quiz winners.
Amazon Quiz Winner| Amazon Quiz Winner Kaise Check Kare| Haw To Check Amazon Winner| Quiz Winner