Amazon Ray ban Sun Glasses Quiz Answers – 28th May 2019, Now Amazon is again back with another Quiztime.
In today's Quiztime Amazon is offering Ray ban Sun Glasses.
This Quiz is valid only for today so follow below steps and avail this quiz.
Winners of this Quiz will be announced soon. You can check winners list from here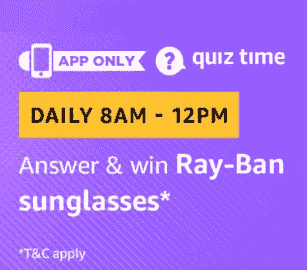 Amazon Ray ban Sun Glasses Quiz Answers –
1. Yakshagana' is a traditional theatre form originating from which Indian state?

Ans. Karnataka
2. Hippopotomonstrosesquippedaliophobia is the fear of long words

Ans. True
3. In which country is Mount Vesuvius located?

Ans. Italy
4. Which of the following films has NOT been directed by Imtiaz Ali?

Ans. Karwaan
5.What was the real name of Pope John Paul II?

Ans. Karol Jofez Wojtyala
Amazon Ray ban Sun Glasses Quiz

 

Terms And Conditions – 
1) This Contest will commence on 28th May 2019 from 08:00:01 a.m. (IST) to 12:00:00 p.m. (IST) ("Contest Period")
2) In order to be eligible for the Contest, during the Contest Period you must sign-in to or sign-up from an account on the Amazon.in App ("Amazon.in App").
3) Once you have signed-in to the Amazon.in App, you can participate by navigating to the page where 5 (five) questions will be posted during the entire Contest Period.
4) Thereafter, if you answer all the quiz questions correctly, you will be entitled to a lucky draw which will be carried out amongst participants who have answered that particular question correctly.
Check Related Offers – 
Above given question answers are correct? tell us in the comment section.