Amazon RBL Offer: In this offer post, I will explain a new RBL offer with an Amazon merchant.
After using the RBL card on Amazon for shopping, you will get various benefits:
10% discount with RBL cards.
Save money on using RBL card.
Instant discount on groceries.
And more benefits.
In fact:
From Amazon, recently I have ordered the shoes, and in a year, I have used them 100 times for shopping purposes.
Also, I have saved money in discount and cashback forms. Do you want to save money on online groceries?
Then go to the offer page!
Amazon is everywhere across the globe, and it provides its service to many countries users are happy after using it.
The users can do most things from Amazon like prepaid recharge, money transfer, utility bills, and grocery shopping.
Today, Amazon has partnered with the RBL private bank and providing this discount offer, where customers can save money online.
Also check:
Want an instant discount? If you need instant, then use only Amazon, and I have mentioned the steps below.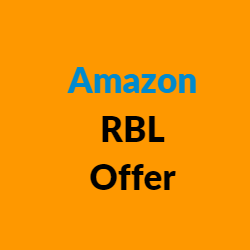 Amazon RBL Offer Terms:
1. Get a 10% Instant Discount on Shopping
1) Amazon customers can get a 10% discount from the Amazon online store after grocery shopping.
2) This Amazon RBL offer applies only to the fresh store and is valid for buying grocery items.
3) Users can save money on groceries when they pay with the RBL credit card, credit card EMI or debit card.
4) Discount value is Rs 200 on every month card, and a minimum transaction value requires Rs 1500.
5) Also, this offer will expire at the end of the month, 31st May 2022, and applicable every Thursday.
How to Avail Amazon RBL Offer:
1) Firstly, tap on the Amazon website from the page or tap on the link, or download the app from an Android store.
2) After downloading the app, make successfully online registration and be ready for grocery shopping.
3) Push all your unique details in the signup form and log in with your account later for purchase.
4) After going to the dashboard, go from the categories or search fresh store names in the search bar.
5) After searching, you will visit the Amazon fresh store and enter a pin code to check availability in your area.
6) Now, explore the product items, find the best thing from the given catalog, or search with a particular name.
7) Next, add items into the cart and check the discount available on products > then activate your RBL account to issue this bank card.
8) Once you get your RBL credit/debit card, you can use it anywhere, either in stores or merchants.
9) Ensure your RBL bank card is inactivated state, and you can use it for online transactions on Amazon.
9) Then, go to the Amazon page and enter the shipping details regarding your grocery order.
10) After entering the payment, proceed with the payments and choose the credit card tab to complete your payment for the rebates.
Conclusion:
Check out Amazon's new store for grocery product items.
How many groceries did you shop from on Amazon?
Tell in the comment box and click on free recharge offers.
Amazon RBL Offer FAQs:
Does Amazon accepts RBL cards?
Amazon is accepting the online payments from RBL credit or debit card.
Can I get discount on Amazon grocery?
You will get discount on Amazon for grocery items, once you pay with the RBL card.
At this Point Check Related Offers:
Finally Watch Related Video:
Watch this video of Amazon to know more about it.
Amazon Pantry offer | RBL bank credit card offer 2021 | 10% Instant discount | #shorts