Amazon Rupay Offer: In this post, I will introduce a new Rupay offer with Amazon.
Get the Amazon app from the Android store and earn these rewards:
20% discount on load money.
Up to Rs 100 on using Rupay card.
Add money and get an instant discount.
And more rewards.
Indeed:
Earlier, I have used an Amazon platform for online shopping, and I saved more money than others.
Do you know how to load money in Amazon Pay account? If you do not know about Amazon Pay.
Then jump right into this Amazon Rupay offer!
Amazon works across the globe, but some countries still do not accept this platform due to government issues. It is the world's best and largest e-commerce store.
When Jeff Bezos launched this platform in 1994, then that time not more people responded to this platform because of its reliability or trustworthiness.
Nowadays, Amazon has become popular globally, and it offers every day huge discount deals. Currently, Amazon has come with a new Rupay offer to provide discounts on load money.
Also check:
The above paragraphs are substantial, which fulfilled your requirement. Now, read the below instructions and follow using steps.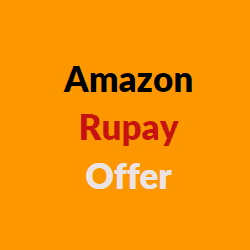 Amazon Rupay Offer Terms:
1. Get an Instant Discount Up to Rs 100
1) Amazon Rupay offer has not required any coupon for loading money.
2) When users use the Amazon account and load money from your bank account, you will get a 20% instant discount up to Rs 100.
3) This offer is valid only on payments with the Rupay platinum debit card.
4) Minimum load balance is require Rs 129 to avail of the offered benefits.
5) This offers is applicable only on the Amazon platform once per customer and valid till 31st March 2022.
6) Also, the users have to load balance only on Friday.
How to Avail Amazon Rupay Offer:
1) When you open this Amazon URL link, then you will go to the Amazon offer webpage.
2) Now, you need to log in to your account with existing details > or download the Amazon app, install it.
3) Next, enter your new details to register a unique Id, enter your mobile number, and a verification code.
4) After that, you are on the Amazon app dashboard > next, go to the wallet or open this Amazon offer link.
5) Then, press the banner once, and you will land to the Amazon Pay > before that, complete your KYC verification.
6) Add your PAN card details, Aadhar details, scan your documents and then wait for the verification.
7) You are now ready to deposit money from your bank account and bring your Rupay platinum debit card.
8) You do not have any platinum debit card, then get your colleague's card to add money.
9) Now, write the amount of Rs 129 and press the load money button, you will be redirected to the payment page.
10) Choose the debit card option and enter the card details like account number, expiry date, and CVV.
11) Last, complete your payment and get your rebate.
Conclusion:
Bring your Platinum debit card of Rupay and use it for loading money.
How much discount reward did you get from Amazon?
Share your reward with us through the comment box and visit the free recharge offers page to get more posts.
Amazon Rupay Offer FAQs:
Does Amazon Rupay offer still work?
Amazon Rupay is still working and it brings this offer every month.
Does Amazon accepts Rupay platinum cards?
Yes, Amazon accepts all types of payment methods and Rupay platinum card as well.
At this Point Check Related Offers:
Finally Watch Related Video:
Click on to know about the Amazon Rupay platinum card load money.
Amazon Pay Rupay platinum card Load money offer Extended 🔥