Amazon Samsung Galaxy Quiz: In this Amazon quiz time post, I am going to tell you about today quiz answers,
After going through this quiz answers post, you will get below-given profits:
Brand new Galaxy

smartphone

.

Free

of cost Samsung devices
Other Samsung lineup devices.
And much more for free.
Let me tell you more about the same,
Amazon has again back with another quiz time.
In this Quiz time,
Now Amazon is offering Samsung Galaxy devices free.
Also check:
So give correct answers to five questions and win the Samsung galaxy quiz.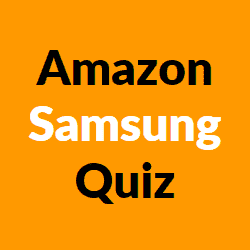 Amazon Samsung Galaxy Quiz Answers:
Amazon Samsung Galaxy Z Flip Answers (26th July):
Q1) Which striker has become the first player in the history of La Liga to record 20 goals and 20 assists in a single season?
Ans: Lionel Messi
Q2) A biography written by Tenzin Geyche Tethong would be released in October. With nearly 400 photographs and documents, it is about whom?
Ans: The 14th Dalai Lama
Q3) In the TV series, Friends what is the name of the cafe, Rachel, Ross, Monica, Chandler, Phoebe and Joey frequently visit?
Ans: Central Perk
Q4) Which company recently announced a $10 billion 'India Digitization Fund' to accelerate growth of a digital India?
Ans: Google
Q5) Madeline Swegle recently became the first Black female to perform what role in the US Navy in its 110-year history?
Ans: Fighter Pilot
Amazon Samsung Galaxy M30 Answers (5th July):
Q1) Which country's parliament on 27th June 2020, picked veteran opposition leader Micheal Martin as their Prime Minister?
Ans: Ireland
Q2) Which of these clubs recently sealed the League title for the 2019-20 season, its first since the Premier League's inception in 1992?
Ans: Liverpool
Q3) Parvez Jamasji, a military veteran who recently passed away, was awarded ______ for gallantry during the 1971 Indo- Pakistan war.
Ans: Vir Chakra
Q4) According to the USCIS in April 2020, close to 68% of US H1 B Visa registrations for FY21 were from which country?
Ans: India
Q5) The guitar played by which musician during his 1993 MTV Unplugged performance was recently auctioned off at a record price of $6 Million?
Ans: Kurt Cobain
Amazon Samsung Galaxy M30s Answers (28th June):
Q1) Kathy Lueders is the first female head of the human spaceflight program at which agency?
Ans: NASA
Q2) Recently ASI discovered a 500- year-old temple dedicated to Gopinath Dev, submerged in which Indian river?
Ans: Mahanadi
Q3) Twitter recently announced a new feature that lets users attach what to their tweets?
Ans: Audio snippets
Q4) Axone, a type of fermented soya bean, is part of the cuisine of which Indian state?
Ans: Nagaland
Q5) 'Klara and the Sun' is the latest novel announced by which Nobel Laureate?
Ans: Kazuo Ishiguro
Check Related Offers:
Watch Related Video:
Amazon Quiz Answers Today | Win Samsung Galaxy S10e | 8 September 2019