Amazon Samsung Galaxy Quiz: In this Amazon quiz time post, I am going to tell you about today quiz answers,
After going through this quiz answers post, you will get below-given profits:
Brand new Galaxy

smartphone

.

Free

of cost Samsung devices
Other Samsung lineup devices.
And much more for free.
Let me tell you more about the same,
Amazon has again back with another quiz time.
In this Quiz time,
Now Amazon is offering Samsung Galaxy devices free.
Also check:
So give correct answers to five questions and win the Samsung galaxy quiz.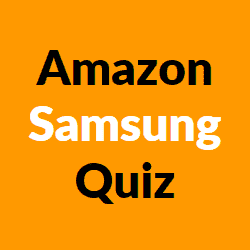 Amazon Samsung Galaxy Quiz Answers:
Amazon Samsung Galaxy Z Answers (17th May):
Q1. What is the name of India's massive repatriation operation to bring back stranded Indians from different parts of the world?
Ans -- Vande Bharat
Q2. CSR's new paper-based test strip for COVID-19 is named after which fictional detective?
Ans -- Feluda
Q3. Arribada is a unique nesting phenomenon associated with which animal?
Ans -- Turtle
Q4. Which person born in May, became the first Asian to win the Nobel Prize?
Ans -- Rabindranath Tagore
Q5. Recently which of these birds were sighted in Navi Mumbai in large numbers?
Ans -- Flamingo
Amazon Samsung M20 Answers (22nd April):
Q1. Which of these is a high-speed satellite internet product development project from Amazon?
Ans -- Project Kuiper
Q2. Phobophobia is the fear of what?
Ans -- Phobias
Q3. How do we better know singer Park Jae-sang born on 31st December, who became a worldwide phenomenon in 2012? (Hint: Gangnam style!!)
Ans -- Psy
Q4. Utkalika is the state emporium of which Indian state?
Ans -- Odisha
Q5. GS Lakshmi is the first woman to do what in the world of cricket?
Ans -- Match referee for a men's ODI
Amazon Samsung Galaxy Note 10 Answers (15th April):
1) 'Shared Cultures, Shared Heritage, Shared Responsibility' is the 2020 theme for which day started by UNESCO and observed on April 18?
Ans -- International Day for Monuments and Sites
2) Which of these actors who acted as a rapper in his debut movie, would star in a spiritual sequel to the 2005 hit Bunty Aur Babli?
Ans -- Siddhant Chaturvedi
3) Which Indian scientist born on April 14th, was the recipient of the prestigious Dr APJ Abdul Kalam award in 2019?
Ans -- Kailasavadivoo Sivan
4) On 13th April, India pays homage to the victims of which infamous massacre in 1919?
Ans -- Jalianwalabagh Massacre
5) The non-profit body AIF has launched an initiative to protect the underprivileged communities against the COVID-- 19 crisis. Expand AIF.
Ans -- American India Foundation
Amazon S20+ Quiz Answers (5th April):
Q1. According to the recently published World Happiness Report, which city is ranked the world's happiest city?
Ans -- Helsinki
Q2. Who among these famous personalities, is the longest-serving heir apparent to the British throne in history?
Ans -- Prince Charles
Q3. 'Apropos of Nothing' is a 2020 memoir by which American filmmaker and humourist?
Ans -- Woody Allen
Q4. What is the name of India's first indigenously-developed Light Combat Aircraft?
Ans -- Tejas
Q5. The Government of India recently launched a chatbot named 'MyGov Corona Helpdesk' on which social media platform?
Ans -- WhatsApp
Check Related Offers:
Watch Related Video:
Amazon Quiz Answers Today | Win Samsung Galaxy S10e | 8 September 2019