Amazon Samsung Galaxy Quiz: In this Amazon quiz time post, I am going to tell you about today quiz answers,
After going through this quiz answers post, you will get the below-given profits:
Brand new Galaxy

smartphone

.

Free

of cost Samsung devices
Other Samsung lineup devices.
And much more for free.
Let me tell you more about the same,
Amazon has again back with another quiz time.
In this Quiz time, you will get different Samsung products.
Also check:
So give correct answers to five questions and win the Samsung galaxy quiz.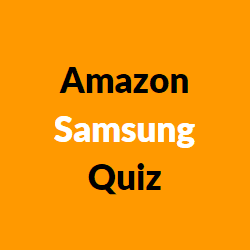 Amazon Samsung Galaxy Quiz Answers:
Amazon Samsung Watch Answers (12th Nov):
Q1) Which former Australia Test captain recently announced his retirement from all forms of cricket?

Ans: Shane Watson
Q2)Indian origin Wavel Ramkalawan has recently become the President of which country?

Ans: Seychelles
Q3) On 19th October 2020, SANT was test-fired by the DRDO at Chandipur test range. What kind of missile is SANT?

Ans: Anti-tank
Q4)Also mentioned by Shakespeare in the Merchant of Venice, what are these boats called in Venice which are a major tourist attraction?
Ans: Gondola
Q5) Which famous electrical engineer is known to have fallen in love with such a bird?

Ans: Nikola Tesla
Samsung Galaxy M21 Answers (4th Oct):
Q1) What type of music did the Marathi film "The Disciple", that won the International Critics Award in the Venice Film Festival, focus on?

Ans: Indian Classical
Q2) According to a recent report by the National Statistical Office, which Indian state topped with a 96.2% literacy rate in the year 2017-18?

Ans: Kerala
Q3) 'Sustainable Shipping for a Sustainable Planet' is the 2020 theme for which day, to be observed on 26th September this year?

Ans: World Maritime Day
Q4) Which Bollywood actor has recently been appointed the Chairman, National School of Drama Society?

Ans: Paresh Rawal
Q5) The MVP for the 2019-20 NBA Regular Season represents which country in international basketball?

Ans: Greece
At this Point Check Related Offers:
Finally Watch Related Video:
Amazon Samsung Quiz Answers Today | Win Samsung Galaxy M31S | 23 July 2020