Amazon Samsung Galaxy Quiz -- In this Amazon quiz time post, I am going to tell you about today quiz answers,
After going through this quiz answers post, you will get below-given profits:
Brand new Galaxy

smartphone

.

Free

of cost Samsung devices
Other Samsung lineup devices.
And much more for free.
Let me tell you more about the same,
Amazon has again back with another quiz time.
In this Quiz time,
Now Amazon is offering Samsung Galaxy devices free.
Also check --
So give correct answers to five questions and win the Samsung galaxy quiz.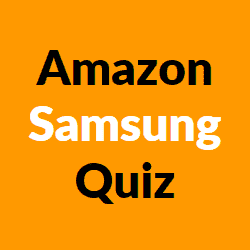 Amazon Samsung Galaxy Quiz Answers --
Amazon Samsung S20+ Quiz Answers (5th April) --
Q1. According to the recently published World Happiness Report, which city is ranked the world's happiest city?
Ans -- Helsinki
Q2. Who among these famous personalities, is the longest-serving heir apparent to the British throne in history?
Ans -- Prince Charles
Q3. 'Apropos of Nothing' is a 2020 memoir by which American filmmaker and humourist?
Ans -- Woody Allen
Q4. What is the name of India's first indigenously-developed Light Combat Aircraft?
Ans -- Tejas
Q5. The Government of India recently launched a chatbot named 'MyGov Corona Helpdesk' on which social media platform?
Ans -- WhatsApp
Amazon Samsung S20 Quiz Answers (29th March) --
1) The Rajya Sabha passed 'The Mineral Laws (Amendment) Bill, 2020', which proposes to commercialize the mining of which mineral?
Ans -- Coal
2) The Indian Navy recently supplied essential food and relief materials to which flood-hit country?
Ans -- Madagascar
3) Who recently broke a 21-year-old record for the most wickets by a fast bowler in a single Ranji Trophy season?
Ans -- Jaydev Unadkat
4) Who is the only Indian player to feature in the official 2020 ICC Women's T20 World Cup team of the tournament?
Ans -- Poonam Yadav
5) National Vaccination Day is observed on March 16th. This day, the first Oral vaccine for which disease was given in India?
Ans -- Polio
Amazon Samsung Watch (21st March) -- 
Q1. The Indian government recently launched a mobile application 'Humsafar' to facilitate doorstep delivery of what?
Ans -- Fuel
Q2. To announce the early release of which movie on 13th March, did the maker's tweet 'Father's Day come early'?
Ans -- Angrezi Medium
Q3. On March 29th, 2017 which holder of an important post born on March 16th, was made an honorary General of the Nepal Army?
Ans -- General Bipin Rawat
Q4. Which town has recently been named as the new summer capital of Uttarakhand?
Ans -- Gairsain
Q5. Which acclaimed actor plays the lead role in the movie 'Kaamyaab' about an actor Sudheer who comes out of retirement?
Ans -- Sanjay Mishra
Amazon Galaxy M31 (17th March) -- 
1. The new Samsung Galaxy M31 comes in two storage variants – 6+128 GB and ______. Choose the second variant from the below options.
Ans -- 6+64GB Storage
2. Which of these is a feature of the Samsung Galaxy M31?
Ans -- All of the above
3. The new Samsung Galaxy M31 packs a 6000mAh battery that supports ________________.
Ans -- 15W fast charging
4. Which of these phrases is associated with the Samsung Galaxy M31?
Ans -- Mega Monster
5. Samsung will soon launch another M-series product. Guess the name of it
Ans -- Samsung Galaxy M21
Win Samsung M20 (Answers) --
Q1. Amruta Subhash won a Best Supporting Actor (Female) Filmfare award for playing which actor's mother in a 2019 movie?
Ans -- Ranveer Singh
Q2. Rishi Sunak, the new Chancellor of the Exchequer of Great Britain, is the son in law of which famous technology personality?
Ans -- Narayana Murthy
Q3. Daredevil, Jessica Jones, Luke Cage, and Iron Fist together form which superhero group?
Ans -- Defenders
Q4. Dara Khosrowshahi, the current CEO of Uber was previously CEO of which travel company? of Uber was previously CEO of which travel company?
Ans -- Expedia
Q5. The final of the 2020 ICC Women's T20 World Cup will be played on which date? (Hint: That day is celebrated as Women's day)
Ans -- March 8
Check Related Offers -- 
Watch video from a Channel --
Amazon Quiz Answers Today | Win Samsung Galaxy S10e | 8 September 2019