Amazon Sony Quiz Answers: Amazon has come up with a new offer, Now Amazon is offering Sony home Theatre Quiz in today's app only quiz time.
Winners of below given Amazon Sony Quiz will be announced next month.
Also check:
So check the below answers and win Sony Home Theatre.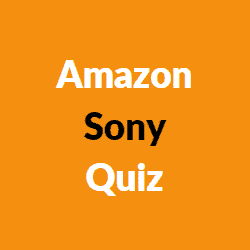 Amazon Sony Quiz Answers:
Amazon Sony Hoe Theater Answers (30th June):
Q1. Which organization has recently become India's first $150 bn company?
Ans: RIL
Q2. 23rd June is observed as a day promoting mass participation of sports, which celebrates the formation of what organization?
Ans: IOC
Q3. Which famous writer born on 27th June, wrote iconic works such as 'Durgeshnandini', 'Kapalkundala' and 'Anandamath'?
Ans: Bankimchandra Chatterjee
Q4. Connie Nielsen plays the role of the mother of which member of the Justice League in the DC Extended Universe?
Ans: Wonder Woman
Q5. 'The Room Where It Happened' is a memoir by which former White House employee?
Ans: John Bolton
Sony 1000XM3 Headphones
Answers
(9th May):
Q1. 'The Butterfly Nebula', 'Pillars of Creation', 'Jupiter's Aurora' are some of the pictures taken by which iconic 30-year-old object?
Ans: Hubble Telescope
Q2. Who received the National Film Award for Best Child Artist for the 1970 film 'Mera Naam Joker'?
Ans: Rishi Kapoor
Q3. Which organization has developed a ventilator called VITAL for COVID-19 patients?
Ans: NASA
Q4. Who had captained the Indian football team to victory in the 1962 Asian Games?
Ans: Chuni Goswami
Q5. Which company is currently testing SpaceShipTwo – their reusable commercial spacecraft designed to carry eight people into space safely?
Ans: Virgin Galactic
I hope the above given Amazon sony quiz answers are

correct

,

Do share these quiz answers with your friends so they can win Amazing prizes from Amazon. Don't forget to check some Free recharge tricks.
Check Related Offers:
Watch Related Video:
Mobikwik Supercash 😍, Zomato Offer, Swiggy Offer, Amazon Quiz Today