Apple Music Free Subscription: In this offer post, I am going to tell you about Apple free subscription,
After reading this offer post, you will get below-given benefits:
So let me tell you more about this free subscription offer from Apple,
I am back with another freebie for you all now Apple music is offering Free apple music subscription for 4 months and Final Cut Pro & Logic Pro X trials for 90 days.
Apple Music is a music streaming service from Apple where you can stream over 50 million songs, ad-free.
Also, you can download albums and tracks to listen to offline.
This offer is valid for a limited time period,
Also read:
So hurry up and avail of this offer.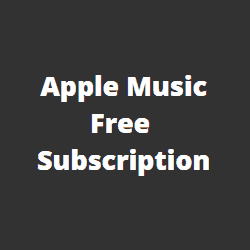 Apple Music Free Subscription Terms:
Get Final Cut Pro & Logic Pro X For Free:
1) First of all Goto Final Cut Pro Page And Logic x Pro Page
2) Now enter your First name, Last name, and email address.
3) Then enter your email address and click on the location.
4) Now click on download the free trial.
5) Then the downloading will be started within a few seconds.
6) The validity of the free trial is 90 days.
7) Logic Pro X is not available for free now.
Old Apple Music Free Subscription:
Get 4 Months Free subscription:
1) New subscribers get a three-month trial, plus one added month (or four months free).
2) If you have subscribed previously to Apple Music, but are not a current subscriber, you will get 1 free month.
2) You can choose either the Individual or Family subscription plan.
3) The Family plan offers the best value, since you can add up to five additional people (six total accounts), and everyone gets their own separate account.
How to Get 4 Months Free subscription:
1) First of all Goto Groupon Offer Page
2) Now Buy the voucher and login with Google+ account or Facebook account.
3) Then select Paypal as the payment method and proceed.
4) You will not get redirect to Paypal, 0$ Payment will automatically complete
5) Now click on this link
6) Find your voucher and select "View Voucher"
7) Copy the code listed under "VOUCHER" This is your redemption code.
8) Visit Redeem or download Itunes
9) On the desktop, iTunes will automatically open. On mobile, the Apple Music app will automatically open, or you will be prompted to download the app if you do not already have it.
10) Log in with your Apple ID, or create a new account.
11) Enter your Redemption Code in the "Code" field in iTunes, or in the "Enter your code manually" field in the Apple Music app, and click "Redeem".
12) Complete sign-up steps to begin your subscription.
13) Note – While redeeming, if you got an error that "This code is valid for the United States account" then create a new account with US number. Use the Text now App for receiving SMS on U.S number.
Check Related Offers:
Watch Related Video:
How to Get Apple Music for Free