Aquaguard Free Demo: In this post, I will discuss a new brand term named Aquaguard.
After reading this offer post, you will earn the below advantages:
Free demo of Aquaguard.
No service charge.
All accessories service for free.
And more advantages.
In fact:
I have booked a demo service to know about the Aquaguard product.
What do you have at your home water purifier, air purifier, or other? Comment your answer.
Let's jump straight into this demo offer!
Aquaguard is a brand created by Eureka Forbes. Eureka Forbes is India's platform focused on electronic items, so it sells various items.
Inside this platform, it has many items such as water purifiers, vacuum cleaners, air purifiers, air conditioners, and so on if you are thinking to buy product items.
Then you should have to try this Eureka Forbes platform, and its product is highly advanced. From Eureka Forbes, you can also buy smart lock systems.
Moreover, Eureka Forbes has brought a new offer where it provides a free demo service for those customers who are most interested in getting its product.
Also check:
Are you excited to know about the booking process of Aquaguard service?
Then take a right look at the below terms and steps.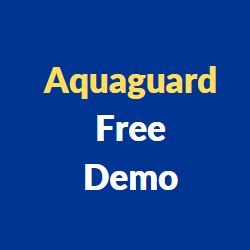 Aquaguard Free Demo Terms:
1. Get Demo of Aquaguard For Free
1) If users use the Eureka Forbes platform, then they will stand a chance to get a free demo of the Aquaguard product.
2) Users does not have to pay any charges for this service, as it is free.
3) The users can book a demo by adding the correct details in the form or using contact number 01205097238.
4) Eureka Forbes does not sell any identifiable information of its users to a third party.
5) Free demo service contains many products such as water purifiers, air purifiers, vacuum cleaners, and so on.
6) Also, the members have to follow the Eureka Forbes terms for this free demo service.
How to Avail Aquaguard Free Demo:
1) First of all, go to the Eureka Forbes website from the Offer Page or install its app.
2) After that, open Google Play app and search for Eureka Forbes from the search bar.
3) Once you install the Eureka Forbes app, then you can use it for further activity.
4) When you go to the Eureka Forbes platform, you will see a free demo button on the top page.
5) Next, click on it and fill in the details like category, name, mobile number, pin code, state, city, and terms.
6) Also, verify your account with a captcha code, and click on the submit button to send your details.
7) Your request is submitted successfully > now, you will get a request message from the Eureka Forbes team members.
8) In a few days, you will receive a phone call from Eureka Forbes regarding the demo service.
9) Now, explore its categories and purchase any of your favourite products.
Conclusion:
I hope you understand the demo process and share it with your friends using social channels.
Which product did you buy from Eureka Forbes?
Comment right now and checkout free recharge offers page for more posts.
Aquaguard Free Demo FAQs:
Is Aquaguard provides free demo services?
Aquaguard offers free demo service so its users know deeply about the product items.
How can I contact with Eureka Forbes?
You can contact with Eureka Forbes using helpline number given on the website.
At this Point Check Related Offers:
Finally Watch Related Video:
Watch and know about the demo of Aquaguard products.