Au Bank Bigbasket Offer: In this offer post, I will tell you a new Bigbasket offer from the Au Bank.
Open your account on Au Bank and get lifetime savings:
Up to Rs 300 on grocery.
Rs 150 off on spending.
Save money on this month.
And many more.
To be sure:
I have an Au bank debit & credit card, and I will use it on the Bigbasket for grocery shopping.
Do you want to get online rebates on purchasing grocery items? If yes.
Then dive straight into this Au Bank Bigbasket offer!
After some time, Bigbasket and Au Bank have teamed up for the customers. Today, they it brought this discount offer, and users will get it after successful transactions for grocery purchases.
Now, the question is, What will you purchase from Bigbasket under this offer? If you are comfortable with us, then share your answer in the comment box.
Also check:
Are you excited about the following benefits? Then read the below offer steps and follow them carefully.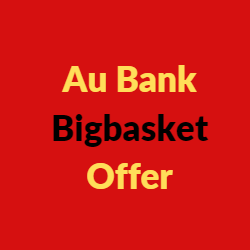 Au Bank Bigbasket Offer Terms:
1. Get Up to Rs 300 Discount on Groceries
1) The customers will receive an instant discount of up to Rs 300 from the Bigbasket platform after doing a grocery shopping.
2) Assured discount benefit is Rs 150, and the user will save this amount only on grocery shopping.
3) Minimum order value is Rs 1200, and minimum two transactions per card in a month.
4) Also, this Au Bank Bigbasket offer is applicable only on the Bigbasket grocery purchase and will end on June 30th 2022.
5) Payments must be made with Au bank credit or debit card of Rs 1200.
How to Avail Au Bank Bigbasket Offer:
1) Firstly, go to the Bigbasket by clicking on the given link or downloading an app as per the offer terms.
2) Now, go to the signup form, log in with an existing account, or make a new one.
3) Thirdly, enter your details like phone number and a verification code or log in using your email address.
4) After logging in, you will be redirected to the Bigbasket homepage, and you will see many grocery catalogs.
5) Nextly, select any of the items from the library and add them to the basket.
6) Now, go to the cart and review your order once > then add your shipping details and make payment.
7) Wait! Before payment, you need to activate this offer from the Au bank digital page, and also, you need this bank card.
8) Go to the Au small finance bank to open your account and then request a debit or credit card by applying for a form.
9) When you register your email ID and phone number to this bank, then visit the Au Bank web page.
10) You will see an offer section, click to open the Bigbasket page and claim now tab to activate this deal.
11) You will get a promo code > use it on the Bigbasket cart and make a credit or debit card payment.
Conclusion:
Make valid payments and get your entitled rewards.
How much amount of grocery did you purchase from Bigbasket?
Share the amount in the comment box and also check these free recharge offers.
Au Bank Bigbasket Offer FAQs:
Does Bigbasket allows Au Bank payments?
Bigbasket allows the users to make a payment with the Au bank and receive discount reward.
How much cashback does Bigbasket provide?
Bigbasket provides a huge cashback rewards, when user complete a minimum amount of payment.
At this Point Check Related Offers:
Finally Watch Related Video:
Check out this offer video and learn about the Au Bank offers.
AU Shopping Dhamaka | Big savings, big rewards!