Bigbasket Slice Offer: I have brought a new offer to get a discount on Bigbasket using Slice.
Get your Slice card on the Bigbasket and receive all the benefits:
Cashback on grocery orders.
Rs 100 cashback on payments.
Save money on online payments.
And more benefits.
In fact:
I have an account on this Bigbasket platform and used it many times for online grocery purchases.
Have you checked out the previous wonderful posts I've discussed before? No, then do not worry, you can check the latest offers.
Then dive straight into this Bigbasket offer!
Bigbasket is the platform for grocery purchases where it contains various items like Atta, cooking oil, pasta, coconut water, and Pepsi.
Additionally, it has joined many merchants and banks like Paytm, PhonePe, SBI, RBL, Digibank, and more.
Now, Bigbasket and Slice are offering a huge cashback offer, where you can receive Rs 100 cashback. A few days left to use this offer and save money.
Also check:
Do you read the terms before using the offer? Just follow the instructions after reading it and proceed to use this offer.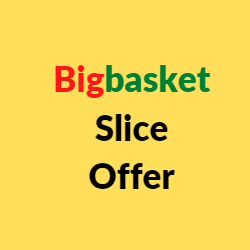 Bigbasket Slice Offer Terms:
1. Get Flat Rs 100 Cashback on Payments
1) The customers will earn cashback from the Bigbasket platform after making an online payment successfully.
2) Activate the Slice spark card to avail of the cashback reward on using this offer.
3) This Bigbasket Slice offer is applicable once per customer and has no liability for the users.
4) Rs 100 cashback will credit to the user's account after successful payments.
5) No special coupon or promo code is required, valid only for the Bigbasket and Slice customers.
6) Also, this spark will end on 17th July 2022, and no minimum transaction is required.
How to Avail Bigbasket Slice Offer:
1) Firstly, tap on the Bigbasket website link to go webpage from here or install the Bigbasket app on your device.
2) Bigbasket IOS app is also available, so download it from the Apple store.
3) After downloading, click on the app to open it and open your account with unique details.
4) Thirdly, open the registration form and enter the unique details, mobile number/email address, and the verification code.
5) After that, explore the categories from the given section on the Bigbasket.
6) Next, click on the items to add them to the basket, and if you want to add more, then add it before payments.
7) After payment, you cannot retake this offer > activate the Slice spark card from the Slice app.
8) You need to signup on to this Slice platform if you are a new user; otherwise, open with existing accounts.
9) When you activate the Slice Spark card, then go back to the Bigbasket cart and proceed request the payment
10) Then, tap on the button to select any options and pay an entire amount to complete this offer.
11) After payments, you will earn Rs 100 cashback.
Conclusion:
To get an advantage, join this offer deal and save money.
Did you get Rs 100 cashback under this Bigbasket Slice offer?
Keep commenting below and check out the free recharge offers.
Bigbasket Slice Offer FAQs:
Can I get 100% cashback on Bigbasket?
You can earn 100% cashback from Bigbasket on online grocery orders.
Does Bigbasket accepts Slice cards?
Bigbasket is accepting the Slice card payments and if users have, then they can make an online transactions.
At this Point Check Related Offers:
Finally Watch Related Video:
Play video and earn more with the Slice card on Bigbasket offers.
Earn more with Slice Card Amazon Big Basket offers.