Blinkit Jupiter Offer: In this post, I will discuss a new Jupiter offer with Blinkit.
Make payment with the Jupiter card and get all the benefits:
20% discount on orders.
Maximum discount is Rs 200.
Rebates on online payment.
And more benefits.
Indeed:
I have a Jupiter card, and which I had already used it once on the Blinkit for a discount.
Do you have a Jupiter debit card? This offer is all about the debit card.
If you want a discount on online groceries. Then let's jump into this offer!
Blinkit is known for its delivery service, and it delivers all orders to the customer's doorstep in 10 minutes. It delivers grocery items, including vegetables, fruits, baby care, and more.
Formerly Blinkit was known for the Grofers, but services are identical, only the name is changed. Blinkit/Grofers is the first grocery platform that provides fresh items at a discount price.
It brought offers with the Jupiter platform, where it is offering a discount reward. So its customers can safely purchase it at a low price.
Also check:
Make sure you are eligible for this offer to get discount benefits? So continue reading below and follow the steps too.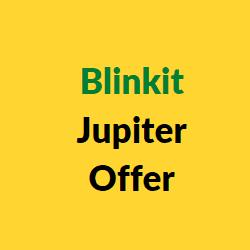 Blinkit Jupiter Offer Terms:
1. Get Instant Discount of 20% on Debit Card
1) Apply this coupon code: JUPITER during checkout.
2) If users apply the above code on the Blinkit platform for grocery shopping, then they will get a 20% discount.
3) Maximum discount profit is Rs 200, that users can save money on online payment for grocery purchases.
4) The above-given coupon code is applicable only on the Blinkit platform and valid twice per month.
5) Also, users also have to make a payment with the Jupiter debit card for online transactions.
6) Minimum transaction requires Rs 800 for making payments, and the code does not apply to baby food products.
How to Avail Blinkit Jupiter Offer:
1) Firstly, go to the Blinkit web platform from the given link and create your account with unique details.
2) You have to enter your mobile number or email address on the registration page, and the password must be strong.
3) After submitting the details, it sends you a verification code > now, put that code and login.
4) Next, visit the play store and download the Blinkit app for easy online grocery purchases.
5) Before that, enable your mobile or home location, or you can set your location manually.
6) Now, log in to your account on Blinkit with the old account details and sign in to your account.
7) Then, search products from the given catalogs or search items by brand or name in the search bar.
8) Next, tap on the particular product item and add them into the cart > then go to the cart and complete your order.
9) Now, visit the Jupiter app and create your account > then activate your Jupiter debit card.
10) When you get your Jupiter card, go back to the Blinkit cart and add home address/shipping details.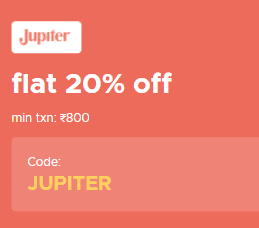 11) Then, you must apply this coupon code: JUPITER
12) Lastly, make your payment with the Jupiter debit card and get your groceries.
Conclusion:
Use your Jupiter card and make an online payment on Blinkit.
Did you get your total discount on Blinkit shopping?
Comment me about your discount reward and check out some free recharge offers.
Blinkit Jupiter Offer FAQs:
What is Blinkit Jupiter offer?
Blinkit Jupiter offer is all about the discount profits, once user get it, then they will save money.
How can I save money on Blinkit?
Use code JUPITER and save 20%.
At this Point Check Related Offers:
Finally Watch Related Video:
Check out this video and learn about the Blinkit offer.
BLINKIT: Offer, 50% Discount, Promocode & Condition (In Bengali)