Best Earphones Under Rs 1000: In this article, I am going to tell you about some best earphones,
After reading this article you will get below-given things:
Best earphones under 1000.
Pros and cons of each earphone.
Guideline to buy the best Earphones.
And much more.
Are you excited to buy the best earphones?
Then let me tell you more.
Every person in this world is a fan of some kind of music, rather it is Pop, R&B, EDM, Rock, and many more. Music is something that helps you overcome your problems or your emotions.
Me personally being a very big music addict and would obviously have no problem in spending bucks for good music experience. 
Since ages music has been the companion of humankind, rather it is singing war songs or wedding songs and whatnot,
All these songs which could have only be heard live when there was no recording device back in old age would have been very heartbreaking and discouraging,
Especially when your favorite singer would die and you could never hear him again.
Well for us it is not a problem as we can take our phones out anytime and listen to our favorite songs, all credits go to the technology which made it possible. 
This shows how important music is to us, thinking life without music sounds so terrible, but that is not going to happen so embrace the opportunity of being born in this era.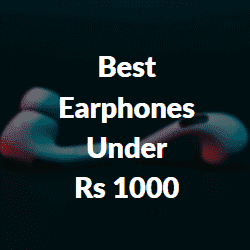 Best Earphones Under Rs 1000:
Since you are here searching for the best earphones with mic under 1000 bucks, I'm here as your companion in getting you to choose the best earphones for you.
There are a few factors that we put emphasis on in order to select the best earphones under this price range, the factors mainly being sound quality, bass, durability, and value for money.
Every earphone of a specific brand might not be a big hit if you check thousands of available earphones in India, It will take you around 5-7 days to find the right earphone. 
But don't you worry, To make things simpler, we made the list of the best earphones under 1000 rupees.
1. Sennheiser CX 213 & CX 180
The Sennheiser CX 213 & CX 180 is the most selling earphones under the price tag of Rs 1000, due to it's the clear and balanced sound quality which soothes the ears. 
We checked a lot of earphones and did many reviews but the balance that this particular piece provides is perfect.
If your looking for a high bass earphone just like any other Indian user then this one is not for you, but if you are looking for a good experience with the perfect balance then this is for you.
While the CX213 and CX180 are different models, the CX213 giving a better audio clarity than the CX180 but not a very big difference, for me personally the CX180 is the real value for money.
PROS:
Balanced and clear audio
Decent Bass but not very high
Clear vocal and treble
Comfortable
2-yr warranty
2. Mi dual-driver Earphones
These Mi dual-driver earphones are the latest arrival in the Indian market with a price of Rs 799. Itself clears it out that the setup comes with 2 drivers (10mm and 8mm) which offers a very loud and clear audio quality with deep bass.
 As I was suggesting the CX180, not for bass, so this is the one that defeats any other earphone in its price range if you are looking for a deep bass earphone.
PROS:
Stylish look & solid metal body
Bass sound is amazing
Overall loud and clear audio
Magnetic ear tips
Good quality mic
CONS:
Vocal & treble is 
little overpowered
3. Sony MDR-EX150(Mic)
The next one on my list is the Sony MDR-EX150AP. This is another earphone that is very popular among the Indian user, due to its Sony signature sound quality ( Rich bass and clear audio). 
The earphone offers a clear bass reach sound output with balanced treble and vocal sound. The best part is the sound feels natural and very lively.
PROS:
Clear sound
Deep and balanced bass
Stylish design
Mic
Good noise isolation
4. JBL C200SI
These earphones are newly introduced by JBL in India with the 'Pure Bass' tag. And I think, these earphones proved this tagline.
I love the design of this earphone, with a lightweight design it also looks premium and shiny. The quality of the cable is decent. It is comfortable to wear.
The overall audio quality is very clear and good.
Bass is one of its kind, nothing to question it. Good for EDM lovers overall a good buy.
PROS:
Stylish look
Deep and balanced bass
comfortable
Mic
More Best Earphones Under Rs 1000:
5. Sony EX15AP
This one is another earphone best in its price tag of Rs 699, apart from its price tag it does provide good sound quality and comfort, it can give response up to a minimum of 8Hz frequency.
This one is also a rich bass earphone but also provides a very clear audio quality.
I liked the design as it is stylish as well as decent in build quality. The cable quality does not feel very durable, but for its price, it is good enough.
PROS:
Deep and balanced bass
Stylish look
Comfortable
Good quality Mic
6. Realme Buds 2
In terms of design, the Realme Buds 2 looks very stylish and attractive with the black and yellow combination. It's not only good looking but also pretty well in terms of build quality.
It comes with magnetic ear tips which are not common for its price tag. They come with TPU braided cable and cable organizer, which makes it very durable. It has a pretty heavy bass with 11.2 mm drivers.
You will love it if you are a bass fan.
PROS:
Stylish look
Build quality
Decent bass
7. boAt BassHeads 182
The boAt BassHeads 182 is my next choice on the list of best earphones under 500 Rs. The Boult Audio very popular for making Bass oriented earphones, because of most of the Indian users like heavy Bass in their earphones.
So if you are one of them, then boAt BassHeads 182 is a perfect choice for you.
PROS:
Solid build and classy look 
Heavy Bass sound
Tangle-free
Comfortable
8. Audio Technica ATH-CLR100
These earphones offer very clear vocal with both male and female voices. You can feel every bit and word in these headphones.
But if you are a bass lover, then it's not for you. Because these headphones are specially designed for podcast listeners.
One of the best parts about this earphone is that it comes with a plastic rolling case which makes it easy to store and carry the earphones without tangling the wires.
PROS:
Very clear sound
Clear vocal and treble
Lightweight and comfortable
CONS:
No mic
Not for Bass lover
Average Build quality
Other Best Earphones Under Rs 1000:
9. boAt Nirvana UNO
Starting with the aesthetics, the design of the earphone's speaker units is in line with other products from the Nirvana lineup. The company has made recent improvements in the hardware providing a better sound quality.
This product gives a more balanced and soothing experience of listening to classical and melodious songs.
If you need a budget dual-driver earphones with decent durability and build quality then go for it.
PROS:
Premium design
Fabric cable
Balanced sound output
10. Envent Beatz 307
Envent is an Indian company known for its affordable audio related accessories such as earphones, headphones, and Bluetooth speakers.
This model features a 10mm speaker driver inside. The bass is quite decent and adequate and perfectly blends with the vocals.
It features an inline mic and remote for hands-free voice calling and media controls.
It offers an excellent design and features for its price tag and is good enough to be purchased.
PROS:
Elegant design
Rich Bass
Decent build quality
Some Guidelines: 
Those were the top 10 best earphones you can purchase in India. We chose the best earphones by considering their feature, sound quality, reliability, warranty, and most importantly customer review. 
Overall Experience and shouldn't fall:
The moment you put your earphone in, What do you feel! Is it comfort, or it falls down and you need to manage again and again.
Bad design can deliver bad sound experience and design can be a big cause of that.
Wire Length:
The length of wire from plug point to the earbud should be long enough that keeps you flexible while working out of riding a bike. 
Material:
The cheap plastic earphones are the worst and last quite lesser than a good quality one.
In India, Companies like Boat have delivered skull candy which is an affordable option and delivers the best quality material at quite an affordable cost. 
Brand Value;
Companies fear negative reviews from customers and go every last step to produce quality products than crappy ones.
You should always check the brand by googling it or looking at their overall seller review. It really helps you to be on the safe side. 
Reliability Pricing;
There are a set of good brands producing super high-quality earphones but they cost a ton.
When you have a budget of 1000 rupees, you should always be realistic about the product you will receive rather than getting deceived by sellers who sell duplicate products of higher version earphones. 
I hope you like this
Best Earphones Under Rs 1000
post,
Do check some Best Earphones Under 500 With Mic-in 2020 and ask your friends to check the same,
Now I want to hear from you ib the comment section below.

Watch Related Video:
सबसे अच्छे EARPHONES ₹1000 नीचे 🔥 Best Headphones Under 1000 ⚡ 2018