How To Enable Volte – Top Methods For Android & IOS
How To Enable Volte – Top Methods For Android & IOS, Now a days Android devices are the first choice of a user, when they went nearby stores in their locality to purchase mobile phones they always put android devices their first priority. However IOS, Blackberry are their second, third priority.
If are are searching for how to enable Volte feature in your Android device or IOS device then you are at right place continue reading below.
Android OS based smartphones are better then IOS based operating system? In my perspective neither Android is good nor IOS is better, both of the operating system are better at their own places.
On If you are completely noob or doesn't know much about smartphones then i recommend you to go for Android devices, but if you a advanced user like to take selfies and can afford IOS devices then i Recommend you to purchase IOS operating devices like Apple iphone's.
Both of the operating system come's with VOLTE feature support so you don't need to worry much about this, Furthermore you will not get VOLTE support feature below apple Iphone 6 and below Android 5.0 Lollipop.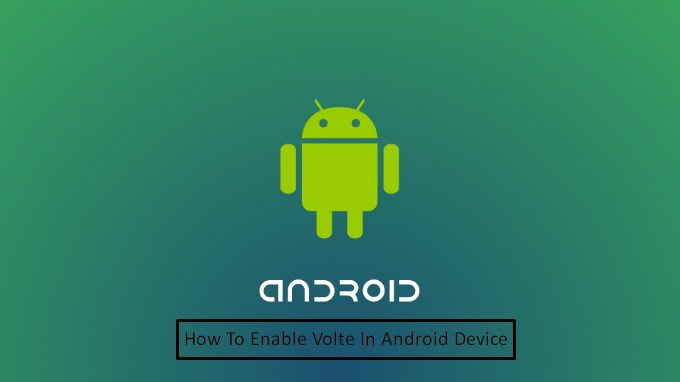 What is VOLTE? The full form of VOLTE is Voice over Long-Term Evolution its is used for high-speed wireless communication for mobile phones and data terminals, In simple words the term VOLTE meaning that voice over 4G LTE, it is the data-only networking technology in which digital packet is transmitted over an IP through an LTE access network. In India Jio is the first telecom company who bought this technology.
How to Enable Volte Feature – 
Android Devices – 
Method one – 
1. Open Your smartphone by tapping Power button
2. Goto Menu and open setting option.
3. Scroll down and head to select Network setting.
4. Then look for VOLTE option over there.
5. Click on it and allow permission if asked.
Method Two –
1. Pick your smartphones in your hands.
2. Open your dailer app with receiver icon.
3. Open dial pad and dial *#*#4636#*#*.
4. Now click on Phone information.
5. Then select or turn on VoLTE Provisioned Flag.
6. Now hold power button for 3 seconds > click on reboot/restart.
7. Your smartphone now support's VOLTE feature.
8. If VOLTE feature is not enabled then follow method one given above.
Above code works for almost every smartphone if it doesn't work then comment your smartphone name below.
Method Three – 
1. Download SQL editior app from Android market Here
2. Install and open the app
3. Goto files tab then select data and open com.android providers.settings databases.
4. In database select Settings.db then make a search for Volte_feature_disabled.
5. Change its valid with the help of sql editior app from 1 to 0 or 0 to 1.
6. That'it! Hold the power button for 3 seconds then click on restart.
Note – Method three which is given above work's only on rooted devices.
IOS Devices –
The only brand which provides IOS OS is only Apple in India, and there is only one method to enable Volte in apple devices, there is other method too but it is not safe for any Apple Iphone device. so to enable Volte in IOS devices follow below given procedure.
1. Turn on your Iphone by power button or by Thumb/finger print unlock.
2. Goto setting, select cellular.
3. Now select cellular data options, turn on volte.
4. In case, if voice and data is off then click on turn on VOLTE
Some of the carriers enable this feature by default.
These are the methods to enable VoLTE in your smartphones, if any of the above given method doesn't work in your smartphones then let us know in comments, i will add some alternate methods. A comment, share by you made our day!!
Also Read – 
Tags – how to enable volte, enable volte android, how to enable volte feature, enable volte android devices, how to enable volte in android