Jio Puk Code: Howdy readers, we at Earningkart doing our best to give you true information about telecom operators and their services.
You might already know many of the websites/blogs have wrong and mock information or the post is not updated for a long time on their website or blog.
Today we are going to tell you about the Reliance Jio Puk code,
Jio is the largest 4G network in India and has a user base of 8.3 million Indian peoples.
Everyone in India loves reliance on JIO services, products, plans, and their wide range of offers.
What is Jio Sim Puk Code:
As we told above Jio has a large number of user bases so the number of requests for the pin or Puk code is also high from various states after the launch of the JIO preview offer.
Moreover, Jio collaborates with other mobile companies like Vivo, LYF, Karbonn, Motorola, Intex, etc.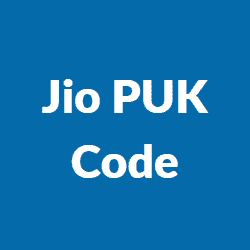 Jio sim card only supported in 4G devices 4G LTE and VOLTE, these devices can be purchased online or offline from any retailer.
Coming back to the topic of Reliance Jio Puk code or pin,
A PUK know as 'Personal Unlocking Key' is a security feature offered by all the handset manufacturing company. In most mobile devices that protect your SIM card data.
In other words, It is the small layer of security to protect unauthorized uses of your sim card by anyone.
It contains about 4 – 8 Numeric digits & provided by all the network service providers.
Talking about PUK & PIN code,
The default pin code for almost all the operators is either 1234 or 0000 and for some other operators, the PUK code is Unique which is impossible to guess.
To know the Puk code of these operators you need to call customer care or you have to try some other method to generate the PUK code.
Once you enable 4 Digit pin code in your mobile then pin code will be asked after rebooting the phone.
Now if you enter pin 3 times then you will be asked for the PUK code and after entering the wrong PUK code 10 times your sim card will be blocked permanently.
Also check:
So before entering the wrong Puk first ask your operator or use below given online method to know the PUK code.
How to Unblock Reliance Jio PUK Code:
Offline Method:
1) Firstly of all open your phone dialer app and enter 18008899999 number.
2) Now, wait till the phone get connects.
3) Follow the instruction and try to connect Jio customer care.
4) When Jio executive attends your call then ask them to tell the PUK code of your mobile number.
5) He will ask you about your documents details, such as an address, father's name.
6) Once you verify your identity then they will tell your sim card PUK code.
7) Use that PUK code to unlock your mobile phone and then set 4 digit Pin if asked.
8) After setting 4 digit pin Goto your handset setting and disable PIN on the reboot option.
Online Method:
If the above method doesn't work for you then try the below-given method.
1) Open your Gmail app on your android phone or open the mail app on an IOS device.
2) You can also open Gmail in any browser such as Chrome or Mozilla.
3) Then click on compose and enter email care@jio.com
4) Now message them and ask them to provide the PUK code of your mobile number.
5) They will ask you to send any government-issued document which verifies your identity and your address.
6) After confirming your identity they will send you your 4 – 8 PUK code.
At this Point Check Related Offers:
Finally Watch Related Video:
JIO SIM PUK Code kaise Khole । जियो सिम में पुक कोड लग गया है। कैसे हटाये।