Power Bank App Real or Fake: Through this post, you will know whether the Power Bank app is real or fraud.
The below articles will help you to understand about this platform:
Power bank details.
How to install and use this app.
Demerits or Merits of Power bank.
And much more.
Forsooth:
After watching much news about the Power Bank app, I researched and described it in this article.
Have you heard about this app on your mobile phone, or do any of your relatives have it? If you heard about this platform and never used it earlier.
Then, you are the right person that you did not use it. Because many peoples are face challenging problems like a scam and lose their money after using it.
Additionally, this type of company traps people by showing advertisements, pushing email, or contacting them.
Also check:
Are you excited to know in-depth about the Power Bank App is Real or Fake?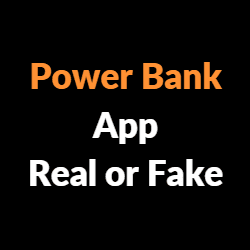 Power Bank App Real or Fake Details:
A power bank is a firm generally known as earning platform, which was launched by the Ramani Iyer (co-founder of Just dial) and founded in 2020.
Moreover, it is not a device or gadget, while it is a digital platform that is made for the users who are always ready to earn money from an online platforms.
It always offers the users to get double of their money and also, it designed its platform in that way where users can check their live earnings according to the hours.
Additionally, they can check total assets, today's earning, and promotion earnings.
On the other hand, the employees of this platform have cheated with many people by trapping them. Not only this firm, rather many websites or apps are running in the market that frauds with the people every day.
When it was launched in the market, it offered the users to invest in it and get double by completing daily tasks or inviting friends, and in the launching days, the people trusted this firm and made a large investment.
After a few days, it took away the people's money and erased all users' data on their accounts.
A few months ago, Delhi cops arrested the men who worked in this firm and made a scam of Rs 150 crore from more than 5 lakh people.
I recommend not using this Power Bank app and being careful with these apps. Now, below I have described the process of installing the Power Bank app.
However, if you want to use it, then follow the steps; otherwise, leave it.
How to Install Power Bank App:
1) First, the users need to go to the Google Play store and search for the Power Bank app.
2) Then, a list will open, and Power Bank will appear on your app screen > click to install it on your smartphone.
3) Complete your signup details like phone number and a verification code.
4) After adding all the necessary details, you will successfully be logged into the app.
Note: Do not invest your money in any fraud app and if you want to do it, then before that, get all the information about the app.
Power Bank App Real or Fake Overview:
Demerits or Disadvantages of Power Bank:
As I already discussed the Power Bank and there are many reasons not to use which are:
1) Not well defined, which means its app and web are poorly designed, there is no good interface.
2) No support system, users can not ask any queries about the Power Bank or other issues.
3) Also, there are few social media channels where users can watch and get more earning ways.
Merits or Advantages of Power Bank:
1) Easy to download and free to use, it does not charge the users on installing the app.
2) You can explore the features after visiting it and completing of registration.
Conclusion:
I hope you get all the detailed descriptions of the Power Bank app from the above articles.
How many peoples did you share this article post?
Tell me in the below box and check the free recharge offers page to explore other posts.
Power Bank App Real or Fake FAQs:
Is Power Bank app safe?
Power Bank app is fraud and highly recommend you not to use the app. Don't use it if you want to stay away from fraud.
Can I use Power Bank app?
Anyone can use the Power Bank app because there are no limitations to use it.
At this Point Check Related Offers:
Finally Watch Related Video:
To know more either Power Bank App  is Real or Fake, watch this given video.
Old Power Bank App फिर से आ गया, New Power Bank app on Google Play Store, Power Bank App Real Review