Bookmyshow Axis Bank Offer: I am going to tell you about the Tremendous offer from Axis bank with Bookmyshow.
Book your movie ticket on Bookmyshow with a bank card for the below benefits:
Free ticket on payments.
Maximum discount value ticket.
Save on one and get 2nd free.
And more benefits.
I hope you believe in this offer because I have yet to save money on the Bookmyshow movie tickets.
Are you excited to get a free movie ticket? If your excitement is too high, you have to read everything about this offer, which I mentioned.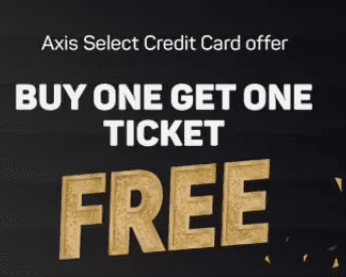 So, let us start availing of this offer for once!
Bookmyshow is a ticket company similar to the PVR Cinema, INOX Leisure, and more. Book a ticket for the movies, stream videos, events, plays, sports, buzz, and activities.
Today, it offers a discount with the Axis bank card, and customers can get a free ticket of maximum discount value.
Also check:
Are you agree with the offer terms? Then read it a single step and use them until you end your booking.
Bookmyshow Axis Bank Offer Terms:
1. Buy one and Get Free Movie Tickets on Payments
1) The users will benefit from the Bookmyshow platform after making an online booking with online payment.
2) When users book one movie or live event, they will get one free complimentary ticket with a maximum discount value of INR 300.
3) There will be no minimum transaction required, and also, you cannot get the coupon or promo code.
4) Also, this Axis Bank offer is running for the Bookmyshow existing and new customers, but they can use it once in a lifetime before the offer expires.
5) Make a payment for once with the Axis bank credit card to save money, and available only on the app or web.
6) Offer will end on 31st March 2023, so users can use it easily.
How to Avail Bookmyshow Axis Bank Offer:
1) Firstly, click on the Bookmyshow website from the given link or install the Bookmyshow app from the Android market.
2) After installing the Bookmyshow app on your device, link your personal details to this account.
3) If you want to check the live offer, then visit the offer section and access all the running offers.
4) After finding this Axis bank offer banner, click to open it and activate this offer right now.
5) Your offer is activated, and then click on the "Book Now" button to start online movie ticket booking.
6) Once you move to the page, then choose any movie available on the Bookmyshow and proceed to the next page.
7) Choose the language, and cinema (2d, IMAX 2d, 3d), select the time or day and choose digital seats.
8) Afterward, you need to activate your Axis bank credit card, or in your absence case, you can take your parent's or friend's card with his permission.
9) Then, go to the payment page and select only credit or debit card to make an online payment.
10) Lastly, you will receive another free ticket from this Bookmyshow on making the first payment.
Conclusion:
Activate the offer for once on Bookmyshow and save only on movie tickets.
Which movie ticket will you receive under Bookmyshow axis bank offer?
Comment your name in the below section and check some free recharge offers.
Bookmyshow Axis Bank Offer FAQs:
Is Bookmyshow accepts the Axis Bank card?
Yes, the Bookmyshow accepts this Axis bank card and users can make payment anytime.
Can I use Bookmyshow for free tickets?
If you make a payment under the offer period, then absolutely you will get free ticket.
At this Point Check Related Offers:
Finally Watch Related Video:
Check out all the new Axis Bank credit card features.
Axis Bank Neo Credit Card Features | Zomato, BookMyShow, Amazon & Other Offers | Charges, Fees Etc.