Bookmyshow Citibank Offer: I will introduce a new Citibank offer with the Bookmyshow platform.
Book a ticket with Citibank and receive all the following benefits:
Free one-movie tickets.
Maximum discount Rs 1000.
Book movie tickets and save your money.
And more benefits.
Do you have a Citibank Debit card? If yes, then why don't you make the proper use of it?
Use your Citi bank debit card or credit card and save lot's of money on shopping and other things.
Here, we are going to explain you about an offer from the Bookmyshow. Do you know that Bookmyshow offers a movie ticket offer in which, when you buy a movie ticket, you will get another free movie ticket?
This offer is valid only if you use your Citibank card while doing the transaction.
Also check:
So follow the steps and avail this cashback offer from Bookmyshow website.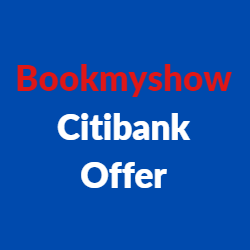 Bookmyshow Citibank Offer Terms:
1. Buy One Get One Free Ticket
1) Users can buy one ticket and get one free ticket from the Bookmyshow platform after making online payments.
2) Offer is applicable only on making a payment with the Citigold & Citigold Private client debit cards.
3) This offer is valid on a maximum of four transactions per card in a month, and this offer is applicable.
4) Maximum discount amount is required Rs 1000, and users can avail of only one free ticket with the Bookmyshow.
5) Only one transaction is allowed in a day.
6) If you avail for the discount but the transaction doesn't go due to some reason, then wait up to 10 minutes before trying to avail of the discount again.
7) This Bookmyshow Citibank offer is valid until 31st March 2023.
How To Avail Bookmyshow Citibank Offer :
1) First, visit the Bookmyshow from the given Offer Page or download the Bookmyshow app.
2) Sign in or register with a new account on the Bookmyshow.
3) Then initiate entering your registration details or log in with an existing Google, Apple, or email address.
4) Once you create an account > then, move to the homepage and start booking online movie tickets.
5) Afterward, select your city, state, and movie name, and check the ticket value to pay an amount.
6) Add other details and proceed to the next steps at checkout page > now, activate the Citibank gold and Citibank private client debit cards.
7) Next, choose debit or credit card and enter the card details (number, CVV, and expiry date).
8) Coupon is auto applied and complete your transaction > then the movie ticket details will sent on your registered account details.
Conclusion:
Check out this offer deal of Bookmyshow.
Which movie ticket from the Bookmyshow platform?
Tell me the name in the comment and share the free recharge offers.
Bookmyshow Citibank Offer FAQs:
How do I check my Citibank offers?
You can check the Citibank offers from the Citibank platform.
Can I get discount offer on Citibank payments?
Yes, you can get an online discount on Citibank payments on movie tickets.
At this Point Check Related Offers:
Finally Watch Related Video:
Click to start video and know about this new offer.
Citi Offer | August | Cirque Du Soleil with BookMyShow