Bookmyshow Loot Offer: In this post, I will introduce a new loot offer of the Bookmyshow platform.
Get the Bookmyshow app from the Google play store and use it to grab the below profits:
Rs 35 cashback on movie tickets.
Movie vouchers at discounts.
Voucher use on next movie tickets.
And more profits.
Forsooth:
Earlier, I got a discount on a movie voucher when I booked an online ticket to watch Spiderman: No way home.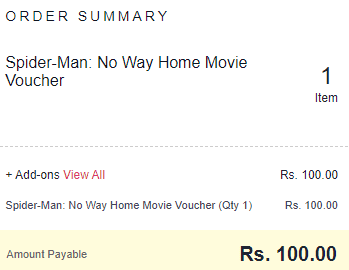 Do you want to get a discount on movie tickets or want to earn a free movie voucher using this platform?
Then dive straight into this Bookmyshow loot offer!
Bookmyshow is an online platform primarily known for online ticket booking and for hosting shows. The users can use this platform and buy any movie tickets.
The users can book the latest movies on this platform like Liger, Brahmastra, Shamsera, and more impressive movies. Also, users can book tickets to stream online game tournaments on PVR cinema.
Currently, it is running an offer, that gives you an instant cashback and an additional movie vouchers. Now, what are you looking for more?
If you are looking for English content, you can get movies on rent by paying some money. This deal has come back, so do not do late for this offer advantage.
Also check:
Have you ever received a discount on online movie tickets? If not, then read the below terms to get a deal.
Bookmyshow Loot Offer Terms:
1. Get Rs 35 Cashback on Movie Tickets
1) No coupon is required to avail of the offer benefits.
2) The users will get a cashback reward of Rs 35, when they open a new account and use Amazon pay wallet on Bookmyshow for movie booking.
3) This loot offer is valid till 8th September 2022 and applicable only on first  movie tickets of Rs 199.
4) Also, this Bookmyshow offer is valid till the movies are in the cinemas or theatres.
5) Bookmyshow reserves a right to change the offer terms anytime.
How to Get Bookmyshow Loot Offer:
1) Firstly, open the Bookmyshow website, or Android lovers can install its app on their mobile phones.
2) After that, continue with an existing account like Facebook, Google or email.
3) If you does not have an account on Bookmyshow, then enter your mobile number to log in to the app.
4) Next, go to the dashboard and open the Spider-Man movie banner page.
5) After that, you will be redirected to the offer page, where you have to make payments with online methods.
6) Then, enter your credit card details like card number, expiry, name, and CVV.
7) Also, you can make payments with other online services like mobile wallets, UPI, net banking, or more.
8) Then, your money is automatically reduced from the given amount of Rs 199.
9) After that, complete your payment to get your movie ticket.
10) Once you make your payment, then you will get your movie voucher at the registered email address.
Conclusion:
I hope you will like this Bookmyshow loot offer because you will get a movie voucher with Rs 100 discount.
Did you get your movie voucher reward from this Bookmyshow platform?
Share your experience about Bookmyshow and check out some free recharge offers for more loot offers.
Bookmyshow Loot Offer FAQs:
What is used for Bookmyshow?
The users can use this Bookmyshow platform for online movie tickets.
Can I get discount on Bookmyshow tickets?
Yes, If users pay amount under the offer period, then they will get an instant discount + additional reward if available.
At this Point Check Related Offers:
Finally Watch Related Video:
Play this video online and know about Bookmyshow offers: book movie tickets online.
Bookmyshow Offer Rs 100/- Instant Discount on Rs 250/- #bookmyshow #free #lootoffer