Bookmyshow Rupay Offer: Today, We will cover a new Rupay offer with the Bookmyshow platform.
After using the Rupay card, you will receive the following advantages:
50% discount on tickets.
Instantly up to INR 500.
Save money on IPL tickets.
And more advantages.
I have used the Bookmyshow too many times and saved more money, but still, I have not used the Rupay card.
Do you want to use the Rupay card for IPL match tickets? If yes, then ask your friend to use it.
Now walk into this offer!
Bookmyshow is a digital platform used for ticket services like movies, IPL matches, events, plays, and more. This offer is a merger of Bookmyshow and Rupay.
Recently, they are teamed up and brought this discount offer for its customers and valid on Rupay card payments. So before visiting Bookmyshow, activate your Rupay credit card.
However, if you want more deals like it, then go to the Earningkart page from the below link.
Also check:
Are you excited to watch IPL matches with your colleagues? Then follow the steps and be ready for a live match.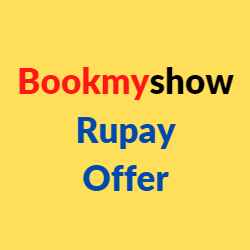 Bookmyshow Rupay Offer Terms:
1. Get 50% Off on IPL Tickets
1) Every Rupay cardholder will save money when booking a match ticket from the Bookmyshow.
2) The users will get a 50% discount up to INR 500 on IPL bookings with the Bookmyshow.
3) This Bookmyshow Rupay offer is valid until it expires on 29th May 2022 and is applicable on Rupay credit card payments.
4) No coupon or promo is required to avail of the discount benefits from the offer period.
5) This offer is valid on all days of the week, but users can take advantage only once, and no minimum transaction is required.
6) Cardholders will instantly get discounts from the Bookmyshow web or app during booking.
How to Avail Bookmyshow Rupay Offer:
1) Firstly, tap on the Bookmyshow website from the Offer Page or download the Bookmyshow app from the Android store.
2) After going to the Bookmyshow app or web, tap on the sign-in button given on the header page.
3) Next, register with an existing Google, Apple, or Email id or put a 10-digit mobile number.
4) After submitting the entities, wait for a verification code and when you received it.
5) Paste into the signup form and proceed to sign in, and you will automatically land on the homepage.
6) Then, search only for the IPL match, and you will get much information related IPL match.
7) Next, tap on any of the sections and go to the booking page > now, a digital stadium will show on your screen.
8) After that, choose any of the available seats and proceed to confirm your bookings.
9) Now, get your Rupay credit card (SBI, CBI, BOI, or more), and if you are a teenager > then tell your elders.
10) Lastly, make your online payment with the Rupay card and get your IPL match tickets in your hand.
Conclusion:
Use the Bookmyshow app to book an IPL match ticket and save money.
Did you complete the ticket booking from the Bookmyshow?
Share something about the Bookmyshow service, and feel free to checkout this free recharge offers.
Bookmyshow Rupay Offer FAQs:
Does Bookmyshow accept Rupay?
Bookmyshow accepts Rupay card payments and if you want to use it, then activate the Rupay card and get discount benefit.
How can I book avail discount on Bookmyshow?
I have mentioned all necessary information about the Bookmyshow movie tickets.
At this Point Check Related Offers:
Finally Watch Related Video:
Play this media and watch a video about the Bookmyshow movie ticket.
Bookmyshow Movie Tickets Offer Get 100% Discount on Rupay Cards