How to Cancel Audible Membership On Amazon: In this post, I am going to tell you about Amazon audible membership cancellation.
After reading this post, you will know:
How to cancel Audible Membership.
How to unsubscribe from Audible Membership.
Remove Membership from the Amazon account.
And much more.
Do you really want to know about it?
Let's jump right in!
Audible is an Amazon company, on Audible you can listen to various books, stories, talk shows, life lessons, and so on.
All the books, stories, talk shows, life lessons on Audible are available in different languages.
Moreover, the quality of the books is superb. You can listen to books and shows anytime and anywhere.
I personally, tried the Audible membership and it is great. But due to a lot of work, I was unable to listen to books, stories, talk shows, and so on.
When you signup on Audible for the first time with your Amazon account, then Amazon gives 30 days free trial to every customer.
Later on, Amazon charges Rs 199 per month in India for Audible and up to $15 every month in the U.S. Which costs more than an Amazon kindle subscription.
If you purchased the free-trial, then enjoy your Audible free services.
Also check:
So, if you want to cancel your Amazon Audible membership then carry on your reading.
Also, make sure to follow the below given each and every step very carefully.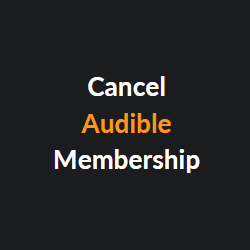 How to Cancel Audible Membership:
There are different methods that you can use to cancel your Audible membership, these methods works properly.
Unfortunately, Audible does not provide of self-serve cancellation in the mobile app or mobile site. But don't worry, you can use the desktop version in mobile to deactivate your membership.
Now, understand one thing about Audible that, if you uninstall the Audible app from your device, don't think that the subscription is canceled, no you will have to pay a charges of subscription.
Then, what can I do? Nothing, go down and use any of the methods below to deactivate your subscription.
Cancel Membership Using Chrome: Method One
1) First of all open the chrome browser on your smartphone or on your desktop.
2) After that open the Audible website in the chrome browser and then log in with your Amazon account.
3) After login, click on the hamburger menu icon from the top left.
4) Then click on my account option and then click on the view membership details option.
5) Now click on the Chrome browser menu icon and then click on the desktop mode.
6) When you click on the Desktop mode option, then the Amazon Audible website will open in desktop mode.
7) If you are already using the Audible website on your desktop then skip the 5th step.
8) Now click on the cancel membership button from the bottom.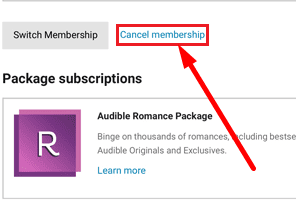 9) On the next page you will see various reasons, choose any of them, if you find any.
10) Now, continue proceeding to the cancelling button to cancel your membership > then it takes a few time to deactivate.
11) Now, a successful message will appear on your screen, once you cancel your Audible membership.
Note: Before cancelling the subscription, redeem your credits; otherwise, you will lost it forever.
Cancel Subscription Over Call: Method Two
1) First of all, open the Amazon Audible app on your smartphone and then login with your account.
2) Now click on the menu icon > Contact > Customer care > enter your mobile number.
3) Now you will receive a call on your mobile number from Amazon customer care.
4) Pick up the call and ask them to cancel the Audible membership.
5) The executive will tell you some CONS of canceling a subscription and then ask for the final decision.
6) Then tell them that you want to cancel the Audible membership.
7) Now you will get a message that your Audible membership has been canceled.
Cancel Subscription Using Email: Method Three
1) Open the Amazon Audible app on your mobile phone, then login with an existing account.
2) After doing all the Audible > next, go to the Gmail and send an email to the Audible team.
3) Inside the email, tap on the compose button or plus icon.
4) Then type email address in "T0" section of Audible is social-support@audible.com.
5) After that, write a subject "I want to cancel my audible subscription" > and also, include your full name.
6) Then, the Audible team will verify your account details and in a few days.
7) You will receive a confirmation mail is that, your membership has been cancelled.
Conclusion:
I want to hear from you about this amazing post.
Did you like this How to Cancel Audible Membership post?
Then don't forget to share this post with your mates and get some free recharge offers.
At this Point Check Related Articles:
Finally Watch Related Video:
Watch this media and know how to cancel audible subscription.
How to Cancel Audible Subscription