How to Check Jio Number: In this article, I am going to tell you some methods through which you can check your own Jio Sim card mobile number.
After going through this article, you will get:
Method to check Jio Mobile number.
Method to check Jio number without App.
Some codes to check the SIM number
And lots more info!
Do you want to check your Phone number?
Are you excited? Let jump right in!
I hope you already know about Reliance Jio. In short, it is a telecom company that provides network services across the country.
Jio has now become the largest telecom after Bharti Airtel in terms of the user base.
Coming to the point, I know most you don't know your own Jio SIM card mobile number.
This situation becomes worse when someone asks for your mobile number and you didn't know your own number.
This is the real case that happened to me when I forget to note my SIM card number after successfully purchasing it from the nearest retailer store.
Moreover, It is also difficult to remember a 10-digit mobile number in the starting days.
Now, let me tell you some exact step by step methods.
There are different methods to check your own Jio number. But, I told all the officially announced methods down below.
Also check:
Are you ready to know the methods to check Jio Number?
Then continue reading below!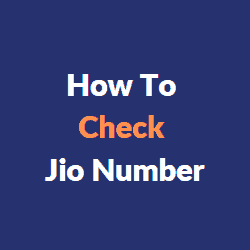 How to Check Jio Number:
To check your own Jio SIM card mobile number, you have to follow the below-given methods.
All the below-given methods are very simple and each method will only take 30 – 50 seconds.
Furthermore, the below-given methods don't include any USSD code for the reason that Reliance Jio has not started USSD code services on their network.
So here is the first method.
Method One: Using App 
In this method, you will get your Jio number through the MyJio app which is already available on the Google Play Store, follow the below steps to know more.
1) First to all download the My Jio app from the Google Play store and then click on the install button on the play store.
2) Then wait for a few minutes and then open the app using the My Jio app icon.
3) Now open the app and turn on your Jio SIM card mobile data for auto-login.
4) Then, wait for a second and you will get your My Jio mobile number on your screen.
5) Now copy the number or note it anywhere else, you can save the number in your smartphone contacts.
Method two: Check Jio Number Using SMS
When you use this method two, then you have to send an SMS using your My Jio mobile number. Now before following the below-given steps make sure that you have an active recharge plan on your number.
1) Firstly open your SMS app in your smartphone and then click on the compose option.
2) If you didn't find any compose message in the messaging app, then click on create a new message option.
3) Now, send an SMS from your mobile number by typing the below-given text.
4) Type this text without quotes "MYPLAN" and then send it on the Jio helpline number 199.
5) Then you will receive a message back from your network operator Reliance Jio with your plan details and number.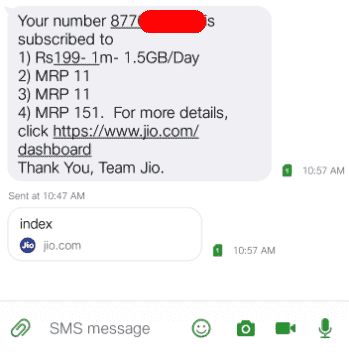 Method three: Using Other Number
This is the easiest method to check the Jio mobile number. To use this method, you need a mobile number of your friends or any of your family members.
1) To use this method call any of your friends or family member.
2) Then ask them to send the number through which they received the call using any way of communication such as WhatsApp, SMS, etc.
3) Once you receive your number from your friends then copy it at any place.
4) After that, use your copied number anywhere.
5) I recommend you to save the number in your contact list.
Method Four: Call Customer Care
This is another method, to check the Jio mobile number.
1) First of all call on this number: 198 from your smartphone.
2) After calling on the above-given number listen to the IVR voice.
3) Make sure to dial the number from your Jio sim card.
4) Then select your language on the call and try to connect the Jio customer care executive.
5) Once you connect to the Customer care executive ask them to speak your mobile number.
6) The executive might ask you about your documents or it may also send you a one time password on your number.
7) Once you get your own Jio number, save it or note it anywhere.
Method Five: Check Jio Number Using Self SMS
This is another great method, which doesn't require anyone.
1) To use this method open your SMS app and make sure that you have an active plan on your number.
2) Then compose an SMS and then send anything to your other network mobile number.
3) This method will work when you are using two sim cards in one smartphone.
4) You can also send a text SMS to any of your friend numbers.
5) Then note your Jio mobile number from the received SMS details.
6) After noting the number, save it in your contact list for future requirements.
Conclusion:
Now make the right use of the above-given offer and If you any thought in your mind then let me know in the comment section below
Do you like this How to Check Jio Number post?
Then don't forget to share this post with your friends and family members and check some free recharge offers.
At this Point Check Related Offers:
Finally Watch Related Video:
From this video, you will know how to activate Jio plans using My Jio app.
JioCare – How to Activate Upcoming Jio Plans Using My Jio App | Reliance Jio