Cleartrip HSBC Offer: In this offer post, I will speak to you about a new HSBC offer with the Cleartrip platform.
Get Cleartrip from the Android store to easy use and get the following benefits:
Up to Rs 1500 discount on flights.
Rs 1500 on any domestic hotel.
Luxurious service at a low price.
And more benefits.
Do you know about Cleartrip or want to know about this platform? If you are looking for an instant discount, then you are in the right place.
Now, jump into this fantastic Cleartrip HSBC offer!
Cleartrip is a ticket booking platform where users can book online tickets. It is an Indian platform and located in Bangalore location.
Moreover, Cleartrip provides flight, hotels, and train services that users can use. Today, Cleartrip brought a new offer with HSBC bank,
where the Cleartrip customers will save some money on this offer period.
Also check:
Are you excited to download the Cleartrip app on your smartphone for online bookings?
Now, if you understand Cleartrip or its offer, then head to the below steps.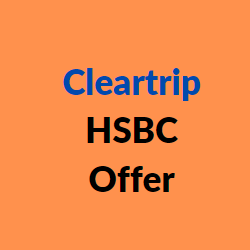 Cleartrip HSBC Offer Terms:
1. Get Up to Rs 1500 Instant Discount
1) Apply this coupon code during checkout: CTHSBC/HSBCEMI
2) When passengers book a domestic flight ticket from the Cleartrip platform, they will save huge discounts.
3) If users book a domestic flight with Rs 5000, they will save Rs 1500, and if user book domestic hotels, they will save 20% of Rs 1500.
4) This Cleartrip HSBC offer is valid until it expires on 30th December 2022.
5) This discount offer coupon code validates one transaction per card every Friday.
6) Also, the users have to make an entire amount with the HSBC credit or debit card to get a rebate.
How to Avail Cleartrip HSBC Offer:
1) Firstly, type Cleartrip name in chrome or another browser and search it to visit the webpage or click on the given link.
2) After that, if you have space on your mobile phone, download the Cleartrip mobile app from any store.
3) Now, make your new account and do not enter the wrong credentials during signup.
4) Enter your email address and press the submit button to enter more details like password, first name, last name, gender, and mobile number.
5) Next, tap on the create account once, and your account is completed successfully.
6) When you go to the main homepage of Cleartrip > then explore its booking services like flights or hotels.
7) Now, choose to type your flight details like pickup, destination, departure, and more > next, click on to search flight-related queries.
8) After that, you will get your results in-flight details > then tap on to select any flight and go to the payment page.
9) Before that, apply this coupon code: CTHSBC/HSBCEMI
10) In the next phase, activate your HSBC bank credit or debit card from their bank and use it for bookings.
11) Now, come back on the Cleartrip and go to the HSBC credit or debit card.
Conclusion:
Use the Cleartrip platform for bookings.
Which ticket did you purchase from Cleartrip?
Write something about your booking and check out some free recharge offers.
Cleartrip HSBC Offer FAQs:
Can I use HSBC credit card on Cleartrip?
Cleartrip allows the users HSBC to make payments.
Does Cleartrip offers discount?
Cleartrip offer discount for those who signup and use it.
At this Point Check Related Offers:
Finally Watch Related Video:
Watch to know how to compare and book flights on Cleartrip.
Compare & Book Flights on Cleartrip™