Cleartrip RBL offer: I am here to describe a new RBL offer for the Cleartrip platform.
Go to the Cleartrip and use it for the following advantages:
30% discount on bookings.
Up to Rs 7500 on hotels.
Book hotels and save money.
And many more.
To be sure:
I saved many more on Cleartrip when I used it many times for hotel or flight bookings.
Do you want to save money online on Cleartrip bookings? If you're going to keep it, then jump straight into this offer!
Cleartrip is a global company or booking site founded by Stuart Crighton, Matthew Spacie, and Hrush Bhatt.
It was launched in 2006 when no more booking agency was available, and now, Cleartrip is one of the best booking agencies.
Now, Cleartrip is offer a discount code with the RBL bank, and customers can save only on hotels.
Also check:
How long have you been wait for this offer? So, follow this offer steps and also read the following steps carefully.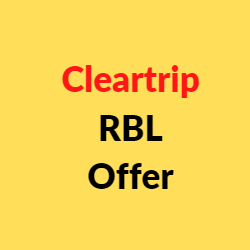 Cleartrip RBL Offer Terms:
1. Get a Flat 30% Discount on Hotels
1) Apply this offer coupon code during checkout: CTRBL
2) The customers will receive a flat 30% discount from the Cleartrip platform on online bookings.
3) Above given code is applicable every Wednesday, and users can make transactions between 14th September 2022 to 28th September 2022.
4) Also, this Cleartrip RBL Offer is valid only on domestic & international hotel bookings, and the minimum booking value is Rs 3,000.
5) Maximum discount for domestic hotels is Rs 5,000 and Rs 7000 for international hotel booking users.
6) Payment mode is RBL credit and debit card, and no other payment is acceptable.
How to Avail Cleartrip RBL Offer:
1) Firstly, go to the Cleartrip site booking from here or search on any browser available on your phone.
2) If you want the Cleartrip app, download its Android or IOS version from an Internet browser.
3) Thirdly, tap on the My Account section and open the registration form to start making a new account.
4) Enter your number or email address and signup with these details, then it sends you a verification code.
5) Next, verify an account with the one-time password, and you will log into the Cleartrip app.
6) Now, choose from various services and click on the hotel section from the Cleartrip, and you will land on the next screen.
7) After that, enter the hotel location or search with the city name, and you will get a list of various hotels.
8) Afterward, choose hotels as per the hotel value and also in respect of the minimum offer value.
9) Before that, you must make your card active, so activate the RBL bank debit/credit card.
10) When you activate the card, hold it in your hand, and apply a coupon or promo code: CTRBL
11) Finally, choose the credit or debit card and enter the card details like number, CVV, and expiry date.
12) Complete your payment with the RBL bank card to save on hotels.
Conclusion:
Avail of the discount offer and use it to save money on hotel bookings.
How much did you save on domestic or international hotels?
Comment down and explore the free recharge offers.
Cleartrip RBL Offer FAQs:
How can I get a discount on Cleartrip booking?
Yes, you can get a discount on Cleartrip booking when you make a transaction with the RBL bank credit or debit card.
Can I save on hotel bookings?
Yes, you can save on hotel bookings either domestic or international and save on online hotel bookings on making a payment.
At this Point Check Related Offers:
Finally Watch Related Video:
Play a video related to the RBL bank popcorn credit card.
RBL Bank Popcorn Credit Card Bumper Offer: 2 Free Movie Tickets Will B