Croma Au Bank Offer: In this post, I will tell you about a new Croma offer with Au Bank.
Upon using the Au Bank on Croma for shopping, you will get these benefits:
Instant discount on Croma store.
7.5% discount on shopping.
Maximum Rs 3,000 discount.
And more benefits.
To be sure:
I have used the Au Bank card on various merchants, and I have saved much money.
Do you want to know about this offer? If your curiosity is high about learning something.
Then do not waste your time, run straight into this Croma Au Bank offer!
Now, the world has changed, and many merchants and banks are teamed up with each other. I am talking about the Croma and Au Small finance bank.
After a long time, they have brought a discount offer or saving offer for customers. A primary term is that users have to use this bank card on Croma when they do shopping.
Also check:
Want to know how to take advantage of this offer? Then the priority is to read and follow the steps first.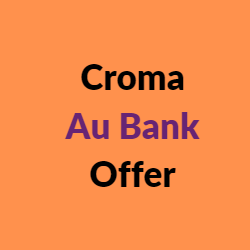 Croma Au Bank Offer Terms:
1. Get a 7.5% Discount on Online Shopping
1) Customers will get a 7.5% discount value from the Croma online store if they purchase any items.
2) Minimum purchase value is similar to Rs 10,000 for EMI and Non-EMI customers, but the discount value offer differs.
3) Also, this offer is applicable once per user and not valid on Kits and sample products.
4) If the user made a Non-EMI transaction, they would save up to Rs 2000, and EMI transaction users will save up to Rs 3000.
5) Also, it will end on 26th June 2022 and will be applicable on Au Bank credit and debit cards.
How to Avail Croma Au Bank Offer:
1) Firstly, go to the Croma website as you usually visit, or direct from the given link.
2) Croma has changed the interface, then you will not get easy online registration.
3) A profile icon will appear on the Croma page right above the corner, press to open it and push create account option.
4) Then, you will enter the Signup form, and it asks you for online registration.
5) Nextly, enter unique details like an email address or mobile number and request a verification code.
6) Once you have opened an account on Croma, you can use it until you get it for online purchases.
7) From the Croma dashboard, select the category from the menu bars, and a list will be opened.
8) Now, select a product from the library section, but do not touch the kits and sample product section.
9) When you finish adding the items into the basket, remember that your cart value must be similar to the offer terms.
10) After that, take your Au Bank credit or debit card in your hand and go to the basket.
11) Then, add your home address and make your payment with an Au bank card.
Conclusion:
Use the Au Bank card on the Croma online store to purchase products.
How much amount did you spend on this Croma site?
Share with us freely, and there will be many offer sections you can explore from the free recharge offers page.
Croma Au Bank Offer FAQs:
Does Croma allows the Au Bank users?
Croma allows those users who make payment with the Au Bank and other merchants like Paytm, PhonePe, etc.
How Can I save on Croma store?
You have only choice to save money from the Croma online store, use the valid coupon code or pay amount with the valid bank card.
At this Point Check Related Offers:
Finally Watch Related Video:
Check this video call service from this video and know its new feature.
Shop on Video Call | Croma