Croma Exchange Offer: In this offer post, I will tell you a new exchange offer with the Croma app.   
After registering on the Croma, you will receive the several benefits including:
Easy exchangeable items.
Extra Rs 500 discounts on products.
Discount on many items.
And more benefits.
To be sure:
Before avail this offer, I have used the Croma online store for shopping, but I have also exchange the items on it.
What product did you exchange the product on the Croma online store? Comments your answer.
Now, dive straight into this exchange offer!
Croma is always brought amazing offers. A few days ago, it had brought an offer with the private ICICI bank, HDFC bank, AMEX bank, and more.
Till now, they offer are activated and thousands of peoples using it everyday. As always, Croma brought a new offer deal, 
where customer can exchange their selected product items on the Croma online store. This offer runs for a limited time and users have to crack this offer before expiration.  
Also check:
Do you want to use the Croma online store for shopping or exchanging the items? If yes, then follow the below procedure.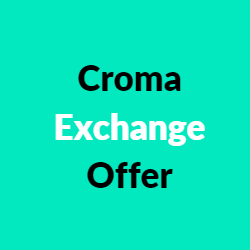 Croma Exchange Offer Terms:
1. Get an Extra Rs 500 Discount on Exchange 
1) If the registered customer/users use the Croma platform, then they can exchange selected items on it. 
2) This Croma exchange offer is applicable and valid only on the Croma website or app. 
3) Users have to take an advantages from this exchange offer before 30th April 2022.
4) Croma has reserves a rights to change or modify the address anytime without prior notice.
5) When customer make an online exchange on the Croma store, then they will receive Rs 500 discount amount.
6) Users can use this offer and get benefits on the Smartphones, Smart TVs, and Laptop. 
How to Avail Croma Exchange Offer:
1) First of all, tap on the Croma website from the given link or visit the Croma webpage on your mobile or desktop browser.  
2) Then, go to the account section or hover on it and a signup form will opened in front of you.
3) Thirdly, select the blank field and add your information like mobile number or email Id and request for a verification code.
4) Now, check your mobile SMS app to get the valid one-time code and tap on the button to verify your account.
5) Next, you have signed in successfully and then, access all the Croma catalogues or products.
6) You can only access the selected categories of items as given in the offer terms and search for it.
7) After that, the product will be opened and you will see an exchange offer > tap to add the details of your old product.
8) It will calculate and new value will appear on your product page, then proceed to go to the next page.
9) Now, add your shipping address to get the product and make your payment regarding the products value.
Conclusion:
I hope you will like this offer and provide full rating. 
Which product will you exchange on the Croma store for 1st time? 
Tell the product name in the comment box and check out the free recharge offers.
Croma Exchange Offer FAQs:
Does Croma have exchange offer?
Yes, Croma have an exchange offer and the users can exchange any selected items.
How do I get offers on Croma?
After registration on the Croma, you will see an offer section, visit there to get latest and exclusive discount offer.
At this Point Check Related Offers:
Finally Watch Related Video:
Play this video and watch the Croma discount offer benefits.
Smart Shopping for Smartphones with Croma: Discounts & More