Dmart HDFC Offer: I will introduce a new HDFC bank offer with the Dmart platform.
Ready for the Dmart shopping with the below benefits:
5% instant discount on orders.
Maximum Rs 350 off on any order.
Save on swiping the HDFC bank card.
And more benefits.
Indeed:
Last month, I purchased the clothes (shirts, jeans, and trousers) and not only the first time. I have used the Dmart many times as it is cheaper.
Do you want to get an online discounts on Dmart on orders? If yes, then let's jump into this Dmart HDFC offer!
Dmart is the retailer company of India which is available on the online or offline mode. It has categories like Dmart grocery, floor cleaners, Papad & Pickles, Kitchen Appliances, and more.
It has partnered with many merchants like Paytm, Mobikwik, Freecharge, and so on. Today, it has brought a deal with the HDFC bank customers, so they can use it hassle-free.
However, if you are looking for the discount or cashback deal, then do not look more, just make your order with the HDFC card and receive reward. 
Also check:
Are you excited to read the below advantages? Then read terms carefully and follow steps.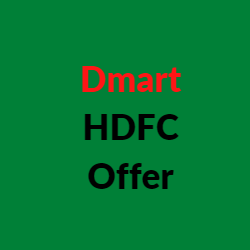 Dmart HDFC Offer Terms:
1. Get 5% Additional Cashback 
1) The customers will get an additional cashback reward from the Dmart platform after online payments.
2) Maximum cashback value is availed for every customers is Rs 350 and this offer is applicable once per customers.
3) Minimum order value for every purchase is Rs 4000, this offer is valid only on the Dmart online site and physical stores are not included.
4) Cashback will goes to the users account within 90 days from the starting date.
5) Make a minimum payment with the HDFC bank debit/credit card except Business, commercial, and corporate credit cards.
6) Also, this Dmart HDFC offer will end on 6th September 2022.
How to Avail Dmart HDFC Offer:
1) Firstly, tap on the Dmart online site available on the internet or search for the app to download it.
2) After downloading the Dmart app, start opening an account with the valid credentials.
3) Then, click on the sign in/register section from the top page and enter the valid credentials.
4) Put your 10-digit mobile number and click to request a login code on your registered mobile number.
5) Now, tap on the categories from above sections or search the items from the search bar.
6) Click on the product to check the items and before adding the items into cart, check the product review.
7) You can not check the product quality digitally, so add only trusted items into your basket and complete them by going to the page. 
8) After that, visit to the basket where you have added the product earlier and click to proceed for next page.
9) If you want to add more items, then search any items from dashboard and tap to add them into the cart.
10) Your cart is full as per the minimum offer value, so press the submit button and get an activated HDFC bank card.
11) Complete your payment with the activated HDFC bank cards to save on orders.
Conclusion:
Join this offer deal and get your HDFC activated card for the instant payments.
Which items did you purchased to get instant discount?
Comment me experience of Dmart shopping and checkout the free recharge offers.
Dmart HDFC Offer FAQs:
Can we use HDFC credit card in Dmart?
You can use the HDFC credit card on Dmart platform when you complete payment with the valid payment mode.
Does Dmart gives discounts on products?
Yes, Dmart gives you discounts on product items when you order any items on making online payments.
At this Point Check Related Offers:
Finally Watch Related Video:
Tap on this video and watch about the HDFC bank.
HDFC BANK & DMART Quarterly Results Q2 2020 || #HDFCBANK SHARE ANALYSIS || #DMART SHARE ANALYSIS||