DND BSNL: In this article, I am going to tell you about BSNL do not disturb service,
After reading this article, you will get to know:
How to Activate DND in BSNL Prepaid/Postpaid
How to Deactivate DND in BSNL
About BSNL DND Activation code
And much more.
Do you want to start DND in BSNL using the activation code?
Then carry on your reading,
BSNL also knows as Bharat Sanchar Nigam Limited has provided the DND (do not disturb) service to their precious subscribers a long way back.
But, only a few people activated this service on their mobile number,
Mostly, the people who activated this service are BSNL old subscribers.
Are you an old BSNL subscriber? or a New subscriber? drop your answer in the comment section below.
Also check:
Do you know why customers start DND on their mobile number? Because they are frustrated and often distract by spam calls and SMS.
So How to activate DND in BSNL? Follow the below-given Offical TRAI (Telcom Regulatory Authority of India) methods to activate/deactivate the service.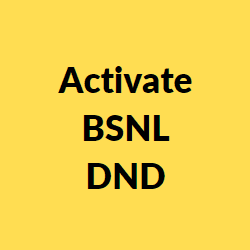 How to Activate DND in BSNL:
Method One: Activate DND by Calling
1) First of all open your smartphone or mobile phone and open its dialer app.
2) Now enter this number using the dial pad.
3) Make sure to insert your BSNL sim card in your mobile phone.
4) Then call on th above number using the BSNL sim card.
5) After that, Follow the instruction on the call.
6) And press the dial button from the Dial pad to Activate the DND service.
Method Two: Using Mobile SMS App
1) First of all, open your smartphone SMS app and then click on the Compose message.
2) Make sure that the BSNL network is coming on your smartphone.
3) Then type this text "START 0" without quotes.
4) Now enter this number 1909 and click on send.
5) You can also type "START 1" / "START 2" Etc.
6) Check the list of codes from Jio DND page
Method Three: Using BSNL Site
1) Currently, there is no method to Activate the BSNL DND service from the BSNL site.
2) I will update this section if BSNL allows its customers to activate the service from their website.
How to Deactivate DND in BSNL:
1) If you want to allow BSNL to send Spam SMS and calls on your mobile number then follow the below steps.
2) Send SMS to deactivate this service type "STOP" without quotes and send it to 1909.
3) Make a call using your mobile phone on this number 1909 and deactivate the service.
4) This method will only work if you already activated the BSNL DND service.
Check Related Offers:
Watch Related Video:
Activate DND | STOP or BLOCK Unwanted Promotional SMS & Calls | Do Not Disturb Service in INDIA