Dominos ICICI Offer: In this post, I will describe a new ICICI Offer with Dominos.
Make payment with ICICI on Dominos for pizza order:
20% discount on order.
Save money up to Rs 125.
Order Pizza at a discount value.
And more benefits.
I want to clarify that you can only use your ICICI card to order Pizza. Are you ready for this offer? If yes.
Then why are you making the order late? Just read the paragraphs and know about this offer!
Dominos is one of the largest companies in fast food of different flavors like Tandoori Paneer Pizza, Corn n Cheese, Keema Paratha Pizza, Veg Pizza, and many more.
Additionally, it has many sections to buy desserts and beverages items. If you go to the Dominos store and order physically, then you can not get any advantages,
But, if you use Dominos m-site or app, then you will definitely save up to Rs 125, and there is a mystery about this offer. You have to pay the amount with an ICICI bank card.
Also check:
Do you want an instant discount on Pizza? Then you have to order the Pizza from its site or app.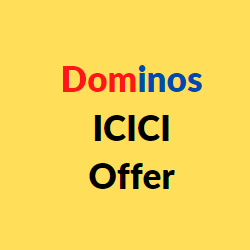 Dominos ICICI Offer Terms:
1. Save 20% of Up to Rs 125
1) Apply this coupon code: DOMICICI20
1) The customer will save a 20% discount on Pizza from the Dominos after completing online registration and ordering.
2) This Dominos ICICI offer applies to making payments with the ICICI bank credit and debit card.
3) Offer runs till they expire, and users can use this offer every day until 30th June 2022.
4) This offer is not applicable on EDV or combo orders, and users have a permission to order Pizza between 11 AM to 11 PM.
5) Discount value up to Rs 125, and the minimum transaction value is INR 500.
How to Avail Dominos ICICI Offer:
1) First, go to the Dominos website from the given link or download its app from stores.
2) After downloading the Dominos app, click on the above header to open the signup form.
3) Next, put your existing mobile number to create an account and verify with a verification code.
4) If you have a Facebook or Google account, then you can log in directly and be ready for Pizza orders.
5) Now, a search for your favorite Pizza from the search bar or explore the categories from the given page.
6) You can customize your order by adding delicious flavors or ingredients and if you got it.
7) then add your food stuff into the cart, where you can make your Pizza order.
8) Now, activate your ICICI bank credit or debit card by visiting the bank or taking care of your friends.
9) After that, go to the Dominos basket with ICICI bank credit/debit card and add the necessary information.
10) Use this code: DOMICICI20
11) Add your house pin code to check availability, and then enter your home address and coupon code.
12) After confirmation, make payment sooner with a minimum order value of Rs 500.
Conclusion:
Go to the Dominos online and order Pizza with making payment of the ICICI card.
Do you have an ICICI credit or debit card?
Tell me, if you don't have one, then take from friends and complete this offer and also check free recharge offers.
Dominos ICICI Offer FAQs:
How can I make payments with the ICICI?
You need to make payment with the ICICI bank card to get a discount on Pizza orders.
Is Dominos accepts ICICI cards?
Yes, Dominos accepts ICICI bank card and if you have credit or debit, you can use any on this offer.
At this Point Check Related Offers:
Finally Watch Related Video:
Play this video and learn about the Dominos Pizza order.
3 Dominos Pizza In ₹129 Only || Domino's Pizza Offer || Byora With Rohit