Dominos Monday Offer -- Buy one Garlic Bread & Get one Free, Are you hungry on this Monday? if your answer is yes then here is a great offer for you.
Now Dominos is offering a garlic bread and tomato ketchup at just Rs 1 only, you can order these two things 1 time when you register from a new number.
However, you have to do some effort by picking it up from the nearest store.
This offer is valid only on app and valid for a limited time period. So hurry up to avail this offer.
Also, share this offer with your friends on different social media websites.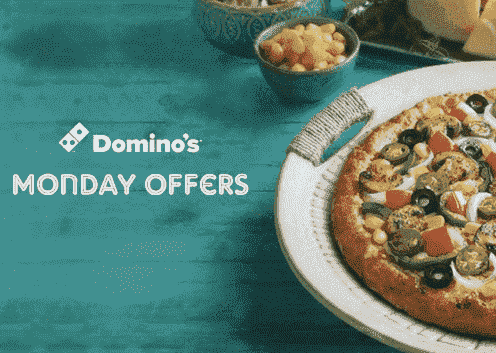 Dominos Monday Offer Terms -- 
1) Coupon code DOMNEW3
2) Buy one Garlic Bread & Get one Free.
3) Customers can use this offer three times from a number.
4) Offer is valid only on the Dominos app.
5) Merchant reserves the right to withdraw, modify, cancel, change the offer at any point of time without prior notice and at their sole discretion.
6) You will get 50% discount on order
How To Buy one Garlic Bread & Get one Free --
1) First of all download Dominos App from Google play store.
2) Then open the app and register with a new account.
3) Now choose the pickup option, Enter the city and store.
4) Go to Sides & Others from the home page and add 2 Garlic Breadsticks of Rs 95 each
5) Now go to your cart and apply coupon code -- DOMNEW3
6) Place your order and go for pick up.
7) Enjoy the buy one Garlic Bread & Get one Free.
You can order 2 Garlic Breadsticks one time with a new number so make sure to loot this offer completely.

Also, don't select delivery at your address only select pickup option.

You will get 50% discount up to Rs 100 on your order. You can also schedule your order for later.

Comment down below for any queries.
Watch video from a channel --