EaseMyTrip ICICI Offer: In this offer post, I will speak to you about a new ICICI offer on the Easemytrip platform.
Use ICICI payment card for online booking on Easemytrip and save money instantly:
Up to 25% discount.
Discount on flights & hotels.
Save on online bookings.
And more advantages.
In fact:
I have access to this Easemytrip platform, and I have made many online bookings with this platform.
Do you have an ICICI credit card? No, I am asking you about the credit card, not the debit card, as this offer is for credit card users.
Let's dive straight into this Easemytrip ICICI offer!
EaseMyTrip has a new offer for you to save money on an online domestic flight, international flights, and hotel bookings.
Today, it has come with the ICICI private bank, if users have an ICICI credit card and make a minimum booking of Rs 4,000 for domestic, Rs 10,000 for international, and Rs 3,000 for hotel booking.
Also check:
Are you excited? If you need instant savings, then check out the below offer steps to use them.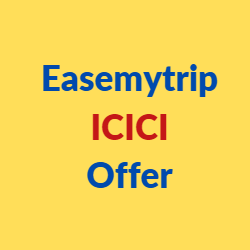 EaseMyTrip ICICI Offer Terms:
1. Get Up to 25% Discount on Bookings
1) Apply this promo code: ICICIEMT 
2) Also, the users will save huge money if they make online bookings only on the Easemytrip platform.
3) 25% discount up to Rs 2022 on hotel booking, 10% off up to Rs 7500 on international, and 12% off up to Rs 2022 on domestic flights.
4) Also, this booking offer is valid for all users, but users can only make a payment every Saturday until the offer expires.
5) The Last date of this offer is 31st October 2022 for both app and web users.
How to Avail Easemytrip ICICI Offer:
1) Firstly, tap on the EaseMyTrip website link or Easemytrip app link from the same page.
2) After installing the EaseMyTrip app, visit the app and press the "My Account" tab from the corner.
3) Tap to enter your 10-digit phone number on the signup page and request a passcode to create an account.
4) Then, submit your details and login into your account > after that, go to the Easemytrip dashboard to start online bookings.
5) From the main dashboard, pick up the domestic flight, hotel booking, or international flight, the choice is yours.
6) Ensure that you have all valid details and enough money for online bookings as another mode is not applicable.
7) Now, set all-important flight booking information to the booking page, such as pickup, departure, destination traveller/class, etc.
8) Tap on the button to search for the availability of the tickets and press the button to see several flights > tap to explore any of them.
9) Visit the ICICI bank branch to open your account and request a credit card for booking payment or get an ICICI credit card from your friends.
10) Go back to the Easemytrip booking page and use this coupon or promo code: ICICIEMT
11) Lastly, pay your entire amount only with the ICICI credit card and get your flight ticket digitally.
Old EaseMyTrip ICICI Offer: 
1. Get Up to 25% Discount on Bookings
1) Use this code on Easemytrip: ANNIVERSARY 
2) This code is valid until 25th June 2022 and not valid on Yes Bank credit card, only ICICI card is excepted.
3) 14% on domestic flights, 20% discount on domestic & international hotels, 10% off on international flight, and 15% off on buses.
4) Easemytrip provides this offer on its anniversary and users can save a huge money.
5) Minimum transaction is Rs 7500 for flights, Rs 2000 for hotels, and Rs 500 for buses.
Conclusion:
Increase your ICICI credit limit for more savings.
How much credit limit do you have taken from ICICI Bank?
Moreover, tell me below and checkout the free recharge offers for once to explore page.
EaseMyTrip ICICI Offer FAQs:
Can I pay with ICICI cards?
Yes, you can pay with the ICICI credit card on Easemytrip, as it accepts the credit card payments.
Does Easemytrip provides discount Offers?
Yes, Easemytrip merged with many merchants and offering a discount offers.
At this Point Check Related Offers:
Finally Watch Related Video:
Click to watch this video about the ICICI saving offer.
ICICI Bank Weekend Savings Offer | Use code: ICICIEMT