Firstcry Free At Three: Firstcry has come up with a new offer.
Now Firstcry is offering a 100% discount on products when you buy products at 3 PM on 12th Mar 2020.
This offer is valid only for the first 500 products.
The rest of the customers will get a 60% discount on purchasing products from Firstcry!
Customers can use the same coupon code which they received on email for a 60% discount after 500 products get sold.
Also check:
So without wasting more time follow the below steps and avail this offer.
Don't forget to share this offer with your friends and loved ones.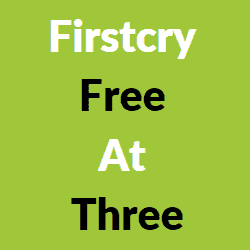 Firstcry Free At Three Terms:
Get Free Products At 3 Pm:
1) The offer is valid on the listed sizes and colors of the product listed on the page.
2) To use this offer, Apply coupon received on your email id registered for the event.
3) Please check the Spam folder just in case coupon code delivered there instead of your inbox.
4) Offer begins at 3 pm on 12th Mar The first 500 customers to apply the coupon successfully will be eligible for a 100% discount.
5) This discount will be applied to MRP and the maximum discount will be Rs. 1500.
How To Avail Firstcry Free At Three:
1) First of all Goto FirstCry or download the Firstcry app from Google Play Store and register for the sale.
2) Now when the sale live Goto Firstcry & add the product to cart and be ready Before 3:00 pm
3) Now Add products only in your select (Offer is valid only on selected products)
4) Add your shipping details and mobile number if required.
5) Apply your unique coupon (Received in your email) At Sharp 3:00 pm
6) After applying you will get a 100% discount or OFF, That's It!
7) Only the first 500 customers will get a 100% discount, rest will get only a 60% discount on orders at Firstcry till midnight.
Firstcry Free At Three FAQ:
When this sale will start?
The Firstcry free at three sales starts at a specific period of time which is mentioned in this offer. Make sure to check it out!
When this sale is going to end?
This sale ends when 500 products get purchased by the customers.
How to get coupon code in this sale?
You have to register in this free at three sales then you will get the coupon code on your registered email address.
How to cancel order in firstcry?
You can cancel your order from the order section of the Firstcry app or from the Firstcry webiste.
How to return product on Firstcry?
You have to call the Firstcry customer support for the same. this is the most convenient method to cancel the Firstcry order.
Check Related Offers:
Watch Related Video:
First 500 orders Free @ 3PM Today/If u miss it get Flat 60% Off@Firstcry Mobile App/Don't miss it