Flipkart Quiz Answers: In this post, I will cover Flipkart's different contest answers such as the Daily trivia quiz, Kya bolti public, and Fake or Not contest.
When you play these contest on the Flipkart app then you will get:
Flipkart Gift vouchers.
Flipkart Super coins.
Gems for remaining winners
And much more.
Are you excited to know today Flipkart quiz answers?
Let's jump right into it!
If you are one who doesn't know anything about the Flipkart quiz contest can carry on the reading, others can head to the below-given heading!
Do you know about the Oyo quiz and Amazon quiz contest?
If your answer is yes, then let me tell you that the Flipkart quiz concept is very similar to the Amazon and Oyo contest.
When you play the Flipkart contest then you will get various rewards such as Gift vouchers, Gems, super coins, and so on.
You will get these rewards when you give the correct answers in the quiz contest.
And most questions are not easy to answer, so I will sort out all the quiz contest correct answers down below.
When you use the below given correct answers in the Flipkart app then there are 100% chances that you will win the prize.
Also check:
So are you ready to know the Flipkart quiz answers?
Then check out the below-given correct answers and also make sure to check the steps to play the quiz.
Flipkart Quiz Answers:
Daily Trivia Quiz Answers (15th Sep):
1) Which player scored a swashbuckling century (158 Runs in 73 balls) in the first-ever IPL match?

Ans: Brandon McCullum
2) With 26 wickets in 17 matches, which bowler won the purple cap in the 2019 IPL season?

Ans: Imran Tahir
3) Only 16 players have taken a hattrick in the IPL, Who among these is one of them?

Ans: Rohit Sharma
4) With 6 wins in the last 12 IPL seasons, which team has won the highest no. of Fair Play Awards?

Ans: Chennai super kings
5) Which player has scored the fastest century (in just 30 balls) in the history of the IPL?

Ans: Chris Gayle
Fake or Not Quiz Answers (15th Sep):
1) More than half of the Indian population is vegetarian?
Ans: Fake
2) Milkha Singh charged rs 1 for his biopic Bhaag Milkha Bhaag?
Ans: Not fake
3) A man holds on a helium balloon and reaches an altitude of 7 km?
Ans: Not fake
4) The title "father of the nation" was given to Mahatma Gandhi by subash Chandra bose?
Ans: Not fake
5) COVID-19 can infect an individual only once?
Ans: Fake
How to Play the Quiz contests: 
1) First of all download the Flipkart app from the Offer Page.
2) After downloading the app from the Google play store, open the Flipkart app.
3) After opening the Flipkart app, click on the create a new account or login with your old account.
4) Verify your mobile number on the Flipkart app if asked.
5) Then click on the top search bar and then type Game Zone.
6) Or simply click on the bottom right gamepad icon.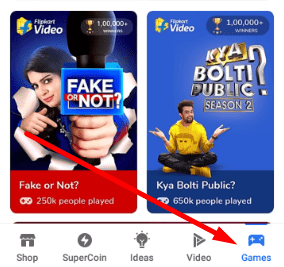 7) Now scroll down and then select any contest and then click on the play button.
8) Make sure to check the prizes of each contest before participating in it.
9) Then read the above given correct answers and then win amazing prizes on the Flipkart app.
Now I want to hear from you about this amazing post, let me know your queries in the comment section below! I will try my best to reply as soon as possible.

Moreover, If you like this Flipkart Quiz post? then don't forget to share this post with your friends and family members!

Do check some Free Recharge tricks, and Upstox Referral offer, for some benefits.

Also, check out the OYO quiz and How to check Jio number article.
Check Related Offers:
Watch Related Video:
Flipkart Guess What Quiz Answers 24 June 2020 – INDIAN Special Guess What Today – Part 2 - Game Zone