Flipkart Refer And Earn -- Earn Up to Rs 300 on Referring Friends, Are you searching for Flipkart refer and earn?
Well,
From this refer and earn program you can make a lot of money.
You can use this earned money when you share Flipkart refer and earn link and code with your friends and family members.
Flipkart introduced this program a way back,
But now it is launched again.
Moreover,
Flipkart did a lot of changes in their refer and earn program rewards.
In the beginning,
Flipkart was offering only Rs 50 when anyone registers on the Flipkart app.
But over time,
Flipkart changes Rs 50 referral reward to Rs 100 discount on shopping of Rs 1000.
Then again Flipkart made a change.
So now Flipkart is offering flat Rs 100 off on order of Rs 1000 when you register on Flipkart app and when your friend makes his first shopping transaction of  Rs 500 or more on Flipkart app.
This Offer from Flipkart is useful for everyone,
So did you want to make the right use of this offer, then share your referral link with your friends now.
You can follow the below-given steps to know more about this refer and earn offer.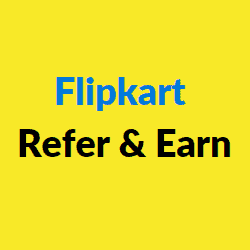 Flipkart Refer And Earn Terms --
Earn Up to Rs 300 on Referring Friends --
1) You and your friend can earn Rs 100 off any order of Rs 1000.
2) Please follow the below steps Share your code with a friend.
3) Your friend installs the app & enters your code Your friend makes their first purchase of Rs 500 or more in a single transaction & doesn't cancel or return.
4) You and your friend both receive a Rs 100 off on any order of Rs 1000. post the successful completion of your friend's first purchase post the return period & may take more than 30 days.
5) Offer is only valid if your friend is a new Flipkart user & subject to other terms and conditions.
6) Your friend must apply your code on installation & meet the conditions below in order for either of you to get a reward.
7) It may take more than 30 days for the referrer to receive the reward as the reward will be provided to the referrer only after the expiry of the return/cancellation period for products.
8) The reward amounts are subject to change & rewards earned will be based on the amounts offered in the active campaign period when the referral takes place.
More Terms -- 
Your friend (Referee) has to Install the Flipkart app and should be:
10) A new user who has never had a Flipkart account An Indian phone number should be linked to your friend's account that has not been used with someone else's account.
11) Your friend has installed the Flipkart app on a new device that was never used to download the Flipkart app. Apply the referral code in 7 days from their first login on the device.
Your friend (Referee) should:
13) Make a purchase of min. Rs. 500 in a single transaction while the program is still active.
14) Not buy any electronic gift vouchers (EVs) Not cancel/return any of the product(s) ordered as part of the purchase.
15) You must have a valid Flipkart account which has a valid Indian mobile number linked to it.
16) This is a subset of the conditions and comprehensive details on the terms and conditions for this offer are listed below.
17) All rewards are given post the successful completion of the qualifying purchase by the Referee as outlined above.
How to Use Refer And Earn --
1) First of all Download Flipkart app from the Offer page (Download app version 7.2)
2) Now within a few minutes, your Flipkart app will be download on your smartphone.
3) Now open the Flipkart app and make a new account or register a new account.
4) Then verify your mobile number with a one-time password on Flipkart.
5) Now proceed and click on the top menu button and then click on refer and earn.
6) You will get refer and earn section in the Flipkart app menu section.
If you didn't find the refer and earn section then scroll down on Flipkart app, and you will find a refer and earn section.
7) From there copy your referral code and share that code with your friends and family members.
8) Then ask your friends to download the Flipkart app from your code.
9) This way, you can share your code with your friends.
10) In Flipkart refer and earn section you will also get a link, you can also share that link with your friends.
11) Once your Friends download the app using your code and enter your referral code during signup, then you will get Rs 100 off on order of Rs 1000 in the form of Flipkart Gift voucher, and your friend will be rewarded too with the same amount.
12) You can use these Flipkart Gift vouchers in the Flipkart app during shopping.
13) Enjoy this Flipkart refer and earn program and earn money.
How to Refer and Earn --
1) Firstly Open Flipkart App > "Menu"
2) Click on "Refer & Earn"
3) Click on "Invite Friend" and Copy Your Referral Link & Code from there.
4) Share it with your Friends And Earn.
Flipkart Details --
1) Happy Shopping -- No-Hassle Returns,100% Buyer Protection
2)  Smarter Search -- Look up products using text, voice, barcode or guides
3)  Choice of Payments -- Cash on Delivery, Credit/Debit Card, EMI, NetBanking, PayZippy
4) Pinpoint Products -- Find what you want with the sort and multi-filter functions.
5) Never Miss an Offer -- Get access to personalized and exclusive app-only deals.
6) Personalized Alerts -- Get notifications on personalized offers, price drops, order status, exclusive launches
7)  Product Suggestions -- Relevant recommendations based on your shopping history
8)  Share with Friends -- Suggest links to interesting products on Facebook, Twitter, Google+
9)  Examine Closely -- View products in great detail with the large, multi-perspective images
10) One-touch Wishlist -- Add products to your Wishlist with just one tap
Old Flipkart Refer and Earn Offer -- 
1) Get Rs 50 on signup and Rs 50 per refer in this Flipkart referral program
2) Offer is valid for a limited time.
3) Users will get Rs 50 on signup when you use their referral code.
4) The referee will get Rs 50 when his friend register and do shopping on Flipkart
5) Flipkart reserves the right to change or modify this offer.
Do you like this Flipkart Refer and Earn offer
?
If you do like this offer then check some
Free recharge tricks
for some extra discount when you recharge your mobile and your family mobile number.
Check Related Offers --
Watch video from a channel --
Flipkart Application refer and earn money program | share application and earn money.