Flipkart Youtube Premium Offer: In this offer post, I will tell you about a new and fantastic Flipkart Youtube premium offer.
When you use this Flipkart offer then you will get various benefits, and you will also get to know:
How to redeem Youtube premium code from Flipkart.
How to activate Youtube premium with Flipkart code.
Three months of free Youtube subscription through Flipkart.
And much more benefits.
In reality:
Earlier, I used this offer on the Flipkart app and received a Youtube 3-month free subscription offer code, as shown in the image.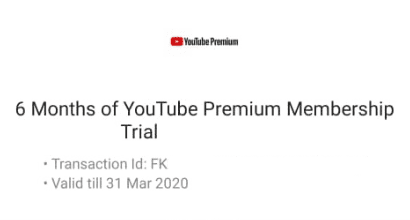 Do you also want to grab Youtube 3 months free subscription in exchange for Flipkart Super coins?
Let jump straight into this Amazing Flipkart Youtube premium offer.
As you already know, Youtube is the biggest and largest video-based search engine globally after Google.
Moreover, the platform is free to use for all users worldwide, but it also offers a subscription-based membership cost of around Rs 199 per month.
You can watch, download, play background all the Youtube videos without any ad in the subscription-based membership.
Nonetheless, the video platform also offers a music-only membership at a lower price.
As said above, Flipkart is now offering free Youtube 3 months subscriptions or free 90 days subscriptions to its customers.
However, the users also have to burn their Flipkart super coins to benefits from this offer.
Also check:
Are you excited to know more about this Flipkart Youtube premium offer?
Then continue your reading and follow the below given multiple easy to follow steps.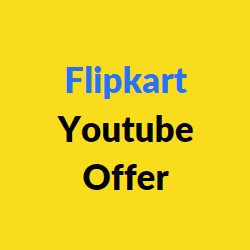 Flipkart Youtube Premium Offer Terms:
1. Get Free 90 Days or 60 days Subscription
1) Users will get the 3 month or 2 months of ads-free Youtube as well as Youtube music membership.
2) This Flipkart Youtube premium offer is valid for new users who never enrolled in Youtube Premium, Google Play music, Youtube music premium.
3) Users must have to redeem the offer code after taking the Youtube membership.
4) Also, the user must have to enter their credit card or debit card details for future membership renewal.
5) Only selected banks such as ICICI Bank, Kotak Mahindra bank, Citibank, and Canara Bank cards accepted in this offer.
6) If users pay with 50 supercoins, then they will get 2 months premium or if user pay with 75 supercoins, they will get 3 months membership.
How to Use Flipkart Youtube Premium Offer: 
1) Firstly, go to the Flipkart website from the Offer page or download the Flipkart app.
2) Now, login or register a new account on the Flipkart app or website using your credentials.
3) Then click on the Flipkart plus zone from the top of the menu and then go to My reward Store.
4) After that, scroll down and then look for Youtube 3 months premium membership.
5) Then click on the Youtube subscription banner and then buy the deal using your 75 Flipkart Super coins.
6) Also, you can check your Flipkart super coins from the Flipkart app menu section.
7) After that, you will get an offer code link, including your coupon code from Flipkart.
8) Now click on the link and grab your Youtube 3 months free subscription.
How to Redeem Youtube Premium Code from Flipkart:
1) To directly redeem your coupon code go to this Youtube link.
2) Now enter your activation code, you will find your activation code at the end of the Youtube link on the Flipkart deal Youtube deal
3) After that, click on try it for free and then enter any payment method for the future membership renewal process.
4) Now, you will get a 3-month free Youtube and Youtube music membership.
5) Lastly, make sure to cancel the 3-month subscription from your end after 15 days, or you will charge Rs 149 or more.
Conclusion: 
It is how you can get the benefits from this Flipkart Youtube premium offer post. Share it with your friends by tapping on the social media icons.
Do you have any queries in your mind?
Check some free recharge offers and Sony liv free subscription offer for extra benefits.
Flipkart Youtube Offer FAQs:
Is Youtube Premium is Free?
If users use Flipkart, then they will get free premium.
Does Youtube Accept credit card?
Yes, if you have a credit or debit card, then you can make payment online.
At this Point

Check Related Offers:
Finally Watch Related Video:
After watching this media, you will know how to get a Youtube premium.
How to get youtube premium free | youtube premium flipkart offer | youtube premium features