Freecharge Freefund Code: In this offer post, I am going to tell you about some freefund codes of Freecharge,
After using the freefund code you will get below benefits:
Cashback on prepaid or postpaid recharge.
Freecharge wallet

cashback

.
Instant discount on recharge.
And much more.
Do you want to know about the code?
Then let's dive right in!
Are you are Freecharge user? If you are a Freecharge user,
Then here are some freefund promo codes which will help you to save when you do recharge on Freecharge.
And in this article,
I am going to tell you about those Promo codes which will help you to grab some cashback on Freecharge.
Are you excited to know? I hope you are.
For the reason that no other platform is providing some huge cashback on recharge.
Do you know what platforms I am talking about?
I am talking about Paytm, Mobikwik, PhonePe, and a few others.
Now Paytm is not providing some good offers for their users like earlier.
If I talk about Mobikwik,
Then it is providing the only supercash to their users.
Which can not be used completely while doing a recharge or bill payment on Mobikwik?
Moreover, PhonePe is also not providing more than Rs 5 cashback in their scratch cards.
So only Freecharge is the best app to earn some cash back from online sites.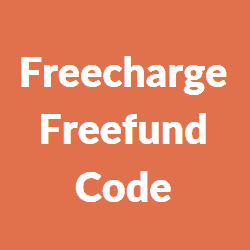 What is the Freecharge Freefund Code?
Some users asked me in the same question in the comment section,
How they can receive these types of specific freefund code from Freecharge?
So the answer to this simple question is, update your primary email id in the Freecharge app,
And always check every email from Freecharge for the reason that there is no specific day when Freecharge sends these types of codes to their user's email id.
Freecharge is sending some freefund code on their user's email-id and mobile number.
I have listed all the promo codes or coupon codes which Freecharge is sending in their emails.
So if you didn't receive any email from Freecharge then don't worry,
I have listed all the codes below so you can easily use them in your account.
Earlier today, Freecharge also added Rs 10 & Rs 20 in their customer wallets.
Mainly,
Freecharge credits the free amount in the customer's wallet on various occasions like Diwali, Holi, Christmas, New year, and other occasions which are celebrated in India.
I got a cashback of Rs 10 and Rs 20,
In my Freecharge account many times without doing anything on Freecharge.
Did you get it?
What?
Something from Freecharge?
Like cashback or recharge, etc? tell me in the comment section below.
Apart from this, Freecharge offers freefund code by collaborating with other brands like Axis bank rewards, cult-fit, etc,
A few days ago, Freecharge provides freefund code by collaborating with the same.
In that Offer, the user has to purchase some deals of another platform like cult-fit from the Freecharge app at Rs 1 or Rs 2.
And then Freecharge provides a coupon code to their customers,
So they get some Cashback on doing Rs 10 or Rs 15 recharge on Freechare app.
If you want to buy those deals then you can check the Freecharge deals offer.
Coming back to the topic of Freecharge Freefund code,
The Freecharge freefund code is account specific codes,
And as I said above these codes will work only for users who received an email from Freecharge.
Freecharge changes these codes from time to time and the old codes get automatically expired.
Also check:
So do you want to know? How to avail Freecharge freefund code on the Freecharge app?
Freecharge Freefund Codes:
1) Get Rs 30 cashback on recharge of Rs 30: FREE30
2) Get Rs 10 cashback on recharge of Rs 10: FREE10
3) Get Rs 15 cashback on recharge of Rs 15: FREE15
4) Get Rs 25 cashback on recharge of Rs 25: FREE25
5) Get Rs 20 cashback on recharge of Rs 20: FREE20
6) Get Rs 40 cashback on recharge of Rs 40: MAKE40
7) Get Rs 5 cashback on recharge of Rs 5: FREE5
8) Get Rs 100 cashback on recharge of Rs 100: LOOT100 | HEAT100
9) The Above-given offer codes are valid for a limited time.
10) Customers will get cashback instantly in their Freecharge wallet.
11) Always note that Freecharge has the right to change or modify this offer any time!
How to Use Freecharge codes:
1) First of all Download Freecharge app from Offer Page
2) You can also download the Freecharge app from Google Play Store.
3) Now login or register a new account on Freecharge, use Freecharge refer code if required.
4) Click on prepaid recharge option from the Freecharge app dashboard.
5) Then Enter your mobile number, operator and then enter Rs 10 in the amount section or whatever is mentioned in the above coupon codes.
6) Click on I have a promo code to enter a Freecharge freefund code in the coupon code section.
7) Enter any of the above-given coupon codes.
More Steps:
8) Complete the transaction with any payment method available on the Freecharge app.
9) That's it!! Done. You have successfully availed this offer from Freecharge.
10) Now you will get the cashback of the same amount which is given in the above freefund code section.
Above freefund codes is valid for limited users who received an email containing the above-mentioned codes,

If it is not working for you then let us know in the comment section below
Does the above Give

Freecharge freefund code

offer

worked

for you? tell us in the comment section!!

If you face trouble in availing this offer then don't hesitate to comment in the comment section below.

It is very easy to comment just put your name, email, comment, and hit submit button.

we will reply you back as fast as possible.

Also, don't forget to share with us on social media platforms and must check some Recharge tricks, Free recharge app, and Airtel free data offer.
Freecharge Freefund Code FAQ:
What is Freefund code in FreeCharge?
Freefund code in FreeCharge is a coupon code through which you will get recharge for free.
How can I get referral code in FreeCharge?
When you use Freecharge referral code on Freecharge then you will get Rs 30 cashback on recharge of Rs 30
What is Freecharge Referral code?
Freecharge referral code is a 6 digit code - R5VKEKC
How can I earn FreeCharge?
You can earn money in Freecharge using Freecharge referral code, you have to share your referral code to earn money on Freecharge.
How to add free money in freecharge wallet?
To add money in freecharge wallet you need freecharge freefund code, if you have freecharge freefund code then you can add it your Freechareg wallet.
How to get free money in freecharge?
Use the codes given in this post to get recharge for free
Check Related Offers:
Watch Related Video: