Goibibo Bank of Baroda Offer: In this post, I will discuss a new Bank of Baroda offer on the Goibibo platform.
Make a payment with a valid bank card and save on flight tickets:
10% instant discount.
Discount on flight booking.
Save on domestic or international.
And save more.
In fact:
When I was going on the Goa trip with the flight, then I used this Goibibo for ticket booking and savings.
What are you looking for in this post? Is the discount coupon mentioned below or something else? Comment with me your answer.
For this offer, let's start experiencing this deal!
The first name of Goibibo was Ibibo, and after some time, the founder of this company changed its name. It is the most reputed travel company which provides you with online booking service.
Goibibo has many partners, including private banks, which the customer can use to take benefits.
Today, Goibibo has an offer with the Bank of Baroda card for its customers.
Also check:
Check all the offers mentioned above and read about them. Also, check the below offer terms.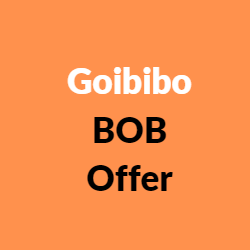 Goibibo Bank of Baroda Offer Terms:
1. Get a 10% Instant Discount on Flight Tickets
1) Apply coupon code for discount: GOBOBFEST
2) Maximum 10% instant discount up to INR 1200 on a domestic flight and 12% discount on domestic hotels.
3) Maximum 15% discount for international flight customers and up to Rs 1000 for cab users.
4) Code is applicable once and appropriate to the given service and minimum order value available per the services.
5) Domestic and international hotel customers must pay a minimum amount of Rs 2000 within an offer date.
6) Also, this Goibibo offer date is 10th November 2022, and pay an amount only with the Bank of Baroda debit or credit card.
How to Avail Goibibo Bank of Baroda Offer:
1) Firstly, click on the Goibibo website link from here to visit the homepage or visit there.
2) After that, check the Google play store to download the Goibibo app, which will be installed on your phone.
3) Then, open this app on your mobile and click on the login/signup button from the above page.
4) Put your 10-digit actual number into the Goibibo platform and request a login code, which will be sent to you via SMS.
5) Verify your Goibibo account with the one-time login code, and you will land on the next page.
6) After visiting the booking page, choose a hotel, flight, train, cab, or bus option, as the offer applies to all.
7) When you pick a domestic or international section, it asks you to include details such as check-in, check-out, departure, or more.
8) Submit your information and get your flight details with each value and proceed with the payments.
9) Tap on the amount and ensure you make a ticket booking with this bank card > to activate your BOB bank card.
10) Then, use this coupon code to avail of the discounts: GOBOBFEST
11) On using the given code, proceed with the payment and pay with the BOB credit or debit card.
Conclusion:
Check this Bank of Baroda offer deal on your browser and save it on your Goibibo bookings.
What service did you choose on the Goibibo platform?
Tell me the service name in the below section, and check out for free recharge offers.
Goibibo Bank of Baroda Offer FAQs:
Is Goibibo gives huge discounts?
Yes, the Goibibo customers can save huge money on online payments.
Does Goibibo accepts BOB cards?
The Goibibo accepts the BOB card payments and you can save it only on the online payments.
At this Point Check Related Offers:
Finally Watch Related Video:
Click to start this video and learn more about the offer.
Goibibo Flight Ticket Booking Offer ₹1500 OFF Domestic Flight