Google Pay Cricket Stadium Offer: In this new post, I will introduce a new Stadium offer of the Google Pay app.
After completing the given tasks, you will receive these rewards:
Rs 300 cashback reward.
Instant cashback on payments.
Teams will receive colossal rewards.
And much more.
In fact:
I earned rewards from Google Pay for performing various tasks like a super wall, indie home, Etc.
If you have ever performed tasks like those mentioned in this post link? Then you can also easily avail of this offer.
Now start using this offer right now!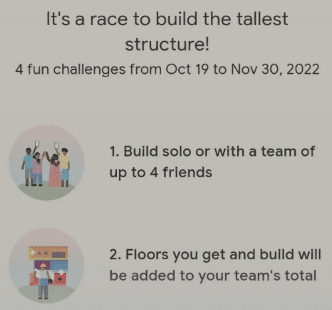 Google Pay brings an amazing offers every year, such as Indie Home, Super Wall, Diwali, and Task Wall.
It takes care of its customers, that is why it brings offer like it. Today, millions of customers are using this digital payment app for transactions.
Spread your love with your friend or family member using this offer and make fun to earn the Google Pay cashback reward.
Now, the Google Pay has brought a new offer called cricket Stadium, so grab the advantages.
Also check:
Are you excited about availing of this offer? Check the offer term lists to read and follow the steps for using them.
Google Pay Cricket Stadium Offer Terms:
1. Make Building Solo or with Team & Get Rs 300
1) The new and existing customers will receive a cashback reward from Google Pay after doing such tasks.
2) Users need to make the tallest structure solo or team/group, and then they can earn cashback up to Rs 300.
3) Also, if a user gets a rank from 1 to 25,000, they will receive Rs 300 successfully to their bank account via the Google Pay app.
4) If users or teams rank above 25,000 to the 1 lakh, they get Rs 90, and more than 7 lakh rankers will get only Rs 30.
5) This race will end on 30th November 2022, before users can use these rewards.
How to Avail Google Pay Cricket Stadium Offer:
1) Once the user has met the Google Pay website, either tap the link or visit personally on their browser.
2) After going to the page, check out the site to find the app link and download it on your mobile device.
3) After downloading its app, click on the register icon to make your Google Pay account or log in with existing Google accounts.
4) Thirdly, bind your phone number and ask Google Pay to get one-time passcode to verify your account.
5) You are on the dashboard and link your bank account to use this service or earn several rewards.
6) You need to choose your bank name and related details with an account, like account number, IFSC code, and complete account verification.
7) On the dashboard, click on the offer banner, and activate it to start using this offer.
8) You must to make the tallest building with a solo or team of up to 4 friends by making a transactions and once you complete the floors in a building.
9) Then, check your virtual building on the above-given section and check your rank, and you will earn rewards.
10) If your rank is mentioned per the lists, then claim your cashback reward on Google Pay.
11) Cashback amounts up to Rs 300 will credit into your bank account within a few days.
Conclusion:
Check out the other Google Pay offers to earn more.
What rank did you get under this Google Pay Cricket Stadium offer?
Comment us your rank and check out the free recharge offers.
Google Pay Cricket Stadium Offer FAQs:
How much cashback can I earn?
You can earn cashback as much as you can under the offer period.
Is Google Pay Cricket Stadium Offer valid?
Only the users can avail this offer till the end of November date.
At this Point Check Related Offers:
Finally Watch Related Video:
Start watching a video about this new offer and learn about it.
Google Pay Cricket Stadium Offer, Google Pay suspended problem solved , GPay Diwali Offer 2nd Round