Google Pay Indi Home Offer: From This post, I will tell you clearly about the new Indi Home offer of Google Pay.
Once you make a house on Google Pay virtually, you will get various rewards.
Up to Rs 50 Cashback on making a home.
Free home energy points.
Discount vouchers and cashback reward.
And more reward.
To be sure:
I have completed a few challenges to make a home on Google Pay, but I will get the rewards sooner.
I am sure you will be happy after using this Indie home offer on Google Pay? Are you ready for this offer? If yes.
Then dive straight into this offer section!
Google Pay is back with another offer named Indie home, and this offer is specific but available for every users. Any of the users who complete this offer will get many rewards.
Google Pay provides offers in every season, and its other offers are Super wall offer, Fan wall offer, Cricket offer, and more.
Also check:
Do you want to know about the following offer steps? Then follow the major steps carefully.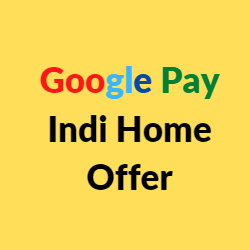 Google Pay Indi Home Offer Terms:
1. Get Cashback and Voucher Reward
1) When the users complete the Indie home offer on the Google Pay app, then they will be rewarded with a voucher or cashback.
2) To complete this offer, there is a minimum transaction, and also first three transactions are compulsory on Google Pay.
3) If users are among the first 10 lakh customers/players/users, they can only earn vouchers up to Rs 50.
4) Users will get a reward in the form of energy on every completion of tasks, and the offer will end after a long time.
5) Also, if users will not use their energy reward for virtual home, then it will expire within seven days.
6) The offer has two-level, and after completion of 1 level, users will auto redirect to the next level.
How to Avail Google Pay Indi Home Offer:
1) Firstly, tap on the Google Pay website from the given link to go to the play store and download this app.
2) After downloading the app, click on the signup icon to register your account on Google Pay.
3) Thirdly, enter your mobile number and request an OTP to verify your account.
4) Now, you are on the homepage and attach your bank account for the various rewards.
5) Now, select your bank name, account number, and IFSC code, and complete verification to activate it.
6) From the dashboard, tap on the offer banner, and you will get home energy as a welcome gift once you visit the page.
7) Then, tap on the collect energy tab to collect free home energy and check your virtual house.
8) Next, start completing this Indie home offer, and when the progress bar reaches 100%, you will receive a reward.
9) You need to claim your reward from the offer section and complete the rest of the transactions on Google Pay.
10) When you finish all stages of the house, and if you come in a list of 10 lakh users, you will get an extra reward.
Conclusion:
Join this offer and earn a home energy reward on every offer stage.
How many levels did you complete under this offer?
Comment me and also check out these free recharge offers.
Google Pay Indi Home Offer FAQs:
What is Indi-home on Google Pay?
Indie Home is an offer launched by the Google Pay offer, and users can use this offer before it expires.
Can I get cashback on Google Pay to offer?
You can earn cashback on making a simple transaction on the Google Pay under the offer period.
At this Point Check Related Offers:
Finally Watch Related Video:
Play this video to watch about this offer.
Google Pay Indie Home Offer | Google Pay New Offer | Win Cashback & Vouchers